There's an entrepreneurial spirit baked into the DNA of many Utahns. Inventing, creating, and challenging the status quo is part of who we are. So perhaps it's no wonder that with the right support and guidance the Lassonde Entrepreneur Institute has become one of the country's top 10 entrepreneur programs since its founding in 2001.
Based in the U's David Eccles School of Business, the institute got its start with a $30,000 gift from entrepreneur Pierre Lassonde MBA'73, in honor of his late wife Claudette MacKay-Lassonde MS'73, for a program pairing graduate students with faculty inventors, industry professionals, and entrepreneurs to get their businesses off the ground.
"I always say, 'When you don't know what you're doing, start small and do it short-term,' " says Lassonde. "So, we started with just a few students and a couple projects with the hope that we would be successful—and we were."
Expanding the Vision
With the success of the first program—dubbed the New Venture Development Center—and an additional $13 million gift from Lassonde, the roots of the institute grew dramatically. New efforts included Bench to Bedside, a medical innovation competition, and Get Seeded, a grant program helping students test their business ideas. "We met with Pierre to discuss what we had accomplished, and he challenged us to do more and come up with an idea to bring the program to the next level," says Troy D'Ambrosio BA'82, executive director of the institute and an assistant dean at the Eccles School. "We eventually came up with an idea that had never been done anywhere that would make our program unique in the world. That idea was for a building where students could live, create, and launch companies 24/7."
Lassonde signed on for another $12 million to help further grow the initiative and fund the new Lassonde Studios facility—which also received support from David Neeleman ex'81 (founder of JetBlue), the Larry H. & Gail Miller Family Foundation, Zions Bank, the Fidelity Foundation, the Kahlert Foundation, and others.
Incubating Creativity
The 160,000-square-foot Lassonde Studios building, which opened in 2016, houses 400 students and includes a 20,000-square-foot innovation hub. Along with the Miller Cafe, which stays open late, it's filled with hand tools, sewing machines, metal- and woodworking equipment, 3D printing technologies, and other tools to help students launch their startup.
"Our goal is to provide the best student experience possible, and Lassonde Studios is helping us do that by giving our student entrepreneurs and innovators the space and resources they need to pursue their ideas, meet each other, and learn by doing," says U President Taylor Randall HBA'90, who was intimately involved with the project as the former dean of the Eccles School. "The building has attracted worldwide attention, but what is more important are the thousands of students who have been living and working here and getting an experience of a lifetime. They are launching more than companies here. They are launching their futures."
Burgeoning Impact
More than 4,000 U students from around campus and 3,000 high school and middle school students now participate in Lassonde programs annually. And since its founding, startups from Lassonde have raised $418 million in company funding and received more than $3 million from seed funding competitions as of spring 2020. "Lassonde is the best place in the U.S. to explore ways to creatively impact the world," says D'Ambrosio. "Pierre Lassonde had a remarkable vision that inspired leadership at the U to create a unique experience for students."
The undergraduate and graduate entrepreneur programs at the U have catapulted in status and are now among the top programs acknowledged by U.S. News & World Report, The Princeton Review, and others. "The national rankings are great. But they don't capture everything happening here," says D'Ambrosio. "We're setting the pace, and other places are trying to catch up. We have something here that doesn't exist anywhere else."
Launched at Lassonde
 Students at the Lassonde Entrepreneur Institute launch hundreds of student startups every year. Here is a sampling of stories from the institute's 20-year history.
Free Moves
A nonprofit dance studio gives all kids a chance to dance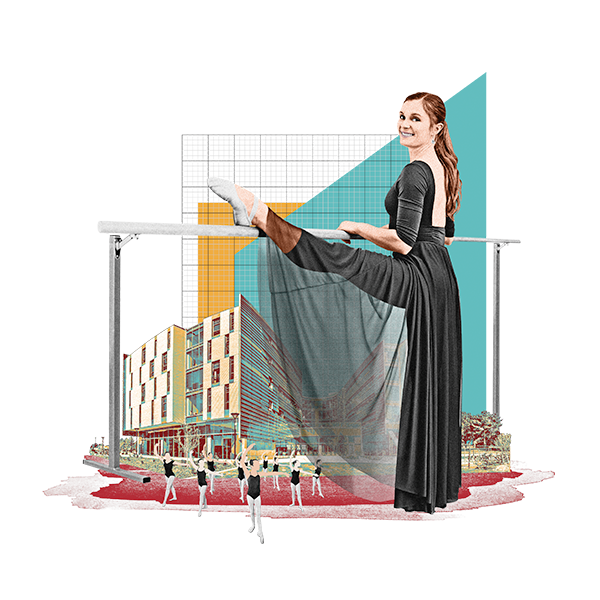 When Alyssa Bertelsen BFA'17 MBC'20 was nine years old, she entered a raffle at a fundraiser for six months of free ballet lessons—and she won. "That drawing changed my life," says Bertelsen. After the six months were up, the studio owners let her continue to attend classes for free because her family couldn't afford lessons. "I knew then I wanted to own a dance studio where finances never kept a kid from dancing," she recalls.
Bertelsen went on to study dance at the U and eventually launch the nonprofit Rise Up School of Dance in Salt Lake City's Rose Park neighborhood. "I had this vision, but I didn't know how to bring it to life," she says. Bertelsen enrolled in the U's Master of Business Creation program—based at the David Eccles School of Business and supported by the Lassonde Entrepreneur Institute—and her studio started to take shape. "The MBC program is the most valuable thing I've ever done," she asserts.
Now with two full-time and two part-time employees, nearly every class is at capacity. And Rise Up offers noncompetitive scholarships so income is never a barrier. "We firmly believe dance can be a way for all kids to be seen, known, and loved, and better prepared to be whoever they're meant to be in life," says Bertelsen.
Making Room
A peer-to-peer self-storage company connects people with extra space to those with things to store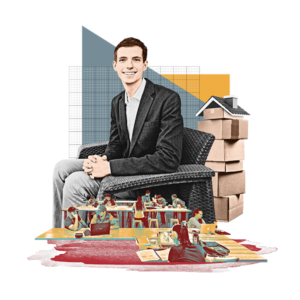 Who would've thought that a spare room or spot in your garage could bring in some extra cash? Rather than paying a self-storage facility to rent a garage or park a boat, people can post their available areas like driveways, garages, or basements with Neighbor to connect with others who have items to store, says company co-founder Colton Gardner BS'16. "It's rewarding to come in to work every day knowing I'm building something important," he notes. "People are making passive income from doing essentially nothing—just making use of space they already have. And we're helping others find affordable storage options to meet their needs." 
The company got its start while Gardner was still working toward his finance degree at the U. He and company co-founders Preston Alder and Joseph Woodbury participated in Get Seeded and other funding competitions, as well as the institute's Hours with Experts program, where they learned about copyrights and how to set up an LLC. "We would've been spinning our wheels without that support," Gardner says. Now the company is headquartered in Lehi, Utah, with over 50 employees—and it's growing rapidly. Neighbor recently secured $53 million in venture capital funding and is now in most metropolitan areas across the country. 
Sweet Dreams
A lightweight inflatable bed designed to help refugees is the start of a company with a conscience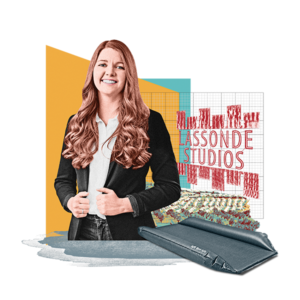 Haley Zimmerman MBC'21 always wanted to be an inventor. And she wanted her creations to make the world a better place. In 2019, while volunteering at the Moria Refugee Camp (and visiting the nearby Kara Tepe camp) in Greece, she saw an opportunity to do both things. "Because space is so tight and supplies so limited at refugee camps, they often have to create makeshift solutions," explains Zimmerman. The image of toddlers and infants sleeping in wooden crates sparked an idea in her—a lightweight and durable inflatable mattress with guardrails to keep kids from rolling out. 
"I thought if I could start a company making these for camping and travel, I could use the proceeds to donate product to refugees," she says. "But I didn't know the first thing about starting a business." She applied for the MBC program—and her company Kara Tepe Kids was born. 
"The MBC gave me the tools I needed to get started," says Zimmerman. "Financial plans, marketing advice, and even expert mentors who still stay in touch have made all the difference." She also received $3,500 in seed funding competitions. Her product is in consumer testing, and she hopes to launch Kara Tepe Kids in March 2022.
Listen Up
Audio library startup Blerp makes sound content searchable and shareable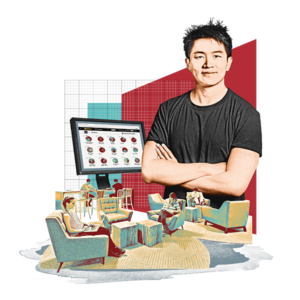 It all started with a Shia LaBeouf meme. Then-student Aaron Hsu BCS'17 and his friends created an app to share sound clips with images and gifs of the Transformers actor. "It was just a way to practice app development, and we thought it was funny," remarks Hsu. "But within the first month we had more than 100,000 downloads. It was the first time I saw that audio could create a movement through enhancing moments." 
Hsu went on to found audio sharing platform Blerp while still an entertainment arts and engineering computer science student. "What if you could share audio like you do gifs and images? Think of it as like sound emojis," says Hsu. The audio database with more than 1 million soundbites now has tens of thousands of users who reach millions of others. Blerp is in app stores and has a website, but its most popular platform is streaming service Twitch. And the company is expanding. Now with 10 employees, Blerp is also working with Amazon to improve Alexa's capabilities. 
Hsu says he didn't start out to be an entrepreneur. "I participated in some Get Seeded competitions and got connected with Lassonde," he notes. "I think the most powerful part of the Lassonde experience is helping students see that they can do so muchmore than they ever imagined." 
Connecting Information
Two alums create a company to bust data silos and help small businesses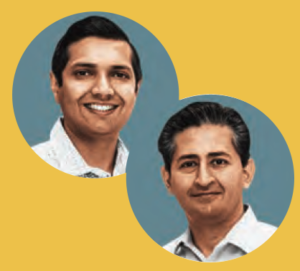 Breaking down information barriers. That's the concept driving HelloGM—a startup from Viral Shah MBC'21 and Dhaval Chokshi MBC'21. "Too often, business data is disconnected," says Chokshi.
"I own some hotels, and the process of gathering data from different areas and creating reports was time-consuming and error-prone. I knew we could do better." And when he met restaurant owner Shah at a community gathering for people from the Indian province of Gujarat, he learned that eateries face a similar challenge.
Both with backgrounds in IT and small business ownership, the pair launched their company to provide a single interface to see data from disparate property management systems compiled and analyzed. "Occupancy rates, room and restaurant revenue, and other day-to-day expenses are all served up in one easily accessible digital location," notes Shah.
But even with a dynamite idea and the development prowess to create the service themselves, the company still struggled. Enter the MBC program. The pair learned valuable skills on how to scale their company. "I think the mentorships and relationships we made with faculty and our fellow students were the most valuable parts of the MBC experience," Shah notes. And now the company works with nearly 500 hotels and has 10 employees.
Speedy Discovery
Accelerating drug development to lower cost, find new treatments, and broaden accessibility
A new antibody treatment usually takes years to develop and deploy. These complex drugs mimic an immune response and are used to prevent and treat diseases like COVID-19. But in the summer of 2020, with the pandemic spreading quickly, we didn't have years, says Josh Eckman BA'04 HBA'04 MS'07, founder and CEO of Carterra. His company's technology analyzes antibody samples to discover possible therapeutics much faster than traditional methods, which was instrumental in getting a coronavirus treatment to market in record time—just nine months. "That drug is still being used in hospitals and nursing homes around the world by Eli Lilly," he notes.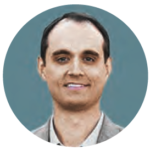 And that's just one example of the impact his company is making by creating life-saving medications for infectious disease, cancer, diabetes, and autoimmune disorders. And what's more, it helps lower the costs of those pharmaceuticals with added competition in the market and more efficient development, says Eckman.
He started the company while in graduate school and participating in the Lassonde New Venture Development Center, based on patent technology developed in the lab of Mechanical Engineering Department Chair Bruce Gale PhD'00. "I wouldn't be where I am today without Pierre Lassonde, his vision, and the Lassonde Center," remarks Eckman. "The mentorship and skills I learned there and at the business school changed my life and have helped make our company successful."
Expert Advice
We asked our panel of entrepreneurs: What do you wish someone had told you before you started? Here are their answers.
"First, nail down the problem you're trying to solve. Is it a problem others are facing? Second, think beyond the product: How do you sell, market, and distribute it? If you can do those two things well, you've got the start of a solid business."
— Haley Zimmerman, Kara Tepe Kids
"Be scrappy. Utilize your network and friends. People want to lend a hand more than you think. You can't do it alone."
— Troy D'Ambrosio, Lassonde Entrepreneur Institute
"Don't give up just because someone doesn't like your idea. When we started, we received tons of pushback and consistently came in last place in funding competitions. We could have called it quits, but we knew our idea was good."
— Colton Gardner, Neighbor
"Buckle up! Entrepreneurship is not for the faint of heart—but it is also a lot of fun. Learn to deal with the challenges in front of you. If you have a disruptive solution for a large market and you can sell it for a reasonable profit, you can overcome just about anything."
— Josh Eckman, Carterra
"Find mentors and trustworthy people and invite them into your process. You can't expect to know how to do everything that goes into running a business by yourself."
— Alyssa Bertelsen, Rise Up School of Dance
"It's not about how much you know, it's about how much you're willing to learn. You can jump into tough roles and thrive, but you need to
be willing to fight for growth."
— Aaron Hsu, Blerp
"Remember two P's—perseverance and patience. Don't get distracted by others' quick successes and quit or pivot too soon. Building a good product and company takes time, but it's worth it."
— Viral Shah, HelloGM
"Be a doer, not just a planner or a thinker. You'll get better the more you challenge yourself. Ideas have no value until you execute them."
— Dhaval Chokshi, HelloGM
About the author: Seth Bracken is editor of Utah Magazine.