Taylor Randall was used to speaking in front of an audience. He'd defended his dissertation as a student, given hundreds of lectures as a professor, and delivered inspiring words at a dozen graduations as dean of the David Eccles School of Business. He often encouraged his listeners to set their sights high and dream big.
" 'If your dreams don't scare you, they aren't big enough,' " he told the graduating class of 2020, quoting Ellen Johnson Sirleaf, the first woman president of an African nation. "Isn't it true that there is something both inspiring and scary about a big dream? It becomes our North Star, reorienting us when diversions take us off course."
But on the evening of Aug. 5, 2021, as Randall was about to utter those same words again to a room full of people who had come to find out who would be the next leader of the state's flagship university—it was different. As the newly announced 17th president of the University of Utah took the podium, this time, the dream at the center of the story was his.
"Well, I'm scared," he said with a smile. "Let's hope we've got a big enough dream."
Those who know Randall know there is no limit to his ability to aim high—it is his wherewithal to knit people together, problem-solve, and build resources around a bedrock of research that sets him apart. As an alum (HBA'90), a parent, a professor, and a dean with a vested interest in the success of the U for more than 20 years, Randall is primed to draw upon his decades of experience, vision, and community connection to propel the U to even greater heights.
At the beating heart of Randall's dream is a focus on student well-being and a desire for the U to have a lasting impact on people's lives. He thought of the community for whom he was now responsible as he chose those first important words.
"At the end of the day, we will be measured by our humanity and who we cared for and who we brought in, not those who we left behind," he said.
He barely waited the weekend to get started. First thing Monday morning, he walked into his new office, ready to go.
Dawn
The day of a university president often begins in darkness. The best time to clear one's mind is before the sun rises—before the calls start coming in, Randall says.
For four years, he has used the crepuscular hours of morning to train for LoToJa, a more than 200-mile cycling race from Logan, Utah, to Jackson, Wyoming, that requires both physical and mental strength. When the day of the competition arrived in September, just weeks after starting his new job, Randall had only one of the two. His plans to be well-trained for the event were somewhat interrupted by his aspirations to become a university president, and the 81-mile stretch of his portion of the race was brutal.
"That was the most painful ride I've had in years," he says. "I just put it in the lowest gear and counted the people who passed me as I rode up the hill."
The race wasn't unlike his life at the time. Plugging through meetings until late, the pressure to succeed and the intensity of the pace felt like a firehose against an uphill climb. His goal was to get in gear and just keep going.
"This university has made huge progress, ranging from rising completion rates and groundbreaking research to our invitation to the prestigious Association of American Universities," says Randall. "That's why I wanted this job: I saw a very impressive trajectory. This isn't a turnaround; this is an acceleration."
When Randall was a doctoral student at the Wharton School of the University of Pennsylvania, he wrote his dissertation on how companies could provide what people want without having too many products to stay in business. It turns out, that strategic planning is applicable to higher education, he says. And it is a concept he brought as dean to the U's School of Business and as a visiting accounting professor at Wharton, Washington University, and the international business school INSEAD.
"IF YOUR DREAMS DON'T SCARE YOU, THEY AREN'T BIG ENOUGH."
— Ellen Johnson Sirleaf
The task of boosting the U to further greatness is not small. A recent survey showed 72 percent of post-secondary institutions are concerned about their finances and 60 percent are worried about declining student enrollment. Nearly half admit that recognizing and overcoming inequity is a challenge, according to the Association of American Colleges and Universities. While the U saw its largest-ever incoming class in the fall of 2021 and has the highest graduation rate in the state, the pressure to keep the momentum going is high.
"President Randall is energetic and an effective problem-solver," says Ruth Watkins, U president from 2018-21. "He is committed and connected to the community and the state. His capacity to innovate and think creatively and to build those connections positions him very well to continue the university's upward trajectory."
While at the U's School of Business, Randall oversaw the creation of programs and a career placement center that boosted the average starting salary of undergraduates to $65,000-69,000, with about 95% of students graduating with a job in hand, even during the COVID-19 crisis. Scholarship funding increased from $800,000 to more than $15 million, and the six-year graduation rate for undergrads grew from 63% to 87%. Under his leadership, the school achieved a top-three ranking among state schools nationally for percentage of tenured and tenure-track female faculty, and faculty research funding was increased by 115 percent. He also fostered a connection with the philanthropic community that led to the school receiving more than $200 million in gifts and pledges, tripling donations over the previous 10 years.
"Taylor seeks opportunities to create more access to higher education," says Victoria Cabal EdD'20, director of the business school's Office of Student Inclusion and First Ascent Scholars, a program created under Randall's leadership to provide scholarship funding and mentorship to students with financial needs. "If you come to him with a clear plan, it's almost always a 'Yes, how can we make that happen?' He is not the kind of person to let barriers get in the way."
When it comes to the long haul—be it a race, or a vision for the future—Randall is the kind of person who sees the hill and starts to climb, no matter how slow or painful it may be.
Day
It's 11:03 a.m. on a Monday, and Randall sits down at a half-empty conference table for a weekly COVID-19 briefing. The rest of the group is beaming in virtually, their faces filling a giant screen. Randall wastes no time starting—he says hello, then jumps right into the data. Someone shares an idea about how to expedite testing after exposures as a way to limit transmission.
"That seems reasonable," Randall says. "Let's debate that here for a minute, though. Follow my logic and question it—I want to see what we would gain from this."
The scene was not unlike many Randall experienced as economic lead of the governor's Unified Command for the COVID-19 recovery. He often found that the group's goals were in conflict but worked to find a way to keep the economy alive while limiting transmission of the virus.
"He always stayed true to the facts at hand and didn't get swayed by public discourse," says Dr. Angela Dunn, former state epidemiologist and now Salt Lake County Health Department executive director. "He was calm and straightforward, asking questions that helped us think creatively about how to move forward."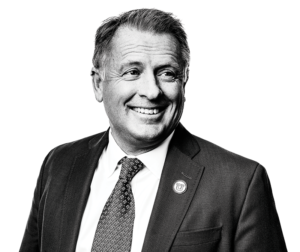 During his first week as president, Randall formed a transition team and named it Operation Bold—a signal of his desire for the U to be bold in its aspirations. He asked the team to map out a plan for his first year in office. Foremost on their list of recommendations was a listen and learn tour with groups from across campus.
In each session, Randall asks the participants about their challenges and opportunities, and what "hairy and audacious" goals they'd want to accomplish if they had unlimited means. Through those discussions, Randall has developed the seeds of his own sky-is-the-limit objectives.
As a student-centric president, Randall envisions revolutionizing the student experience with cohorts and programming to anchor them in a purpose from day one. He sees a world where more students live on campus, with enrollment numbers—now at 34,424—rising to 40,000. He also imagines research funding reaching $1 billion, compared to $641 million in 2021. As a final prong to his three-part goal, Randall pictures the U having the influence of a top 10 public university, with additional resources and research that impact the state and country for the better.
"At the end of my term as president, I would like the people in this state to feel that we served them," Randall says. "We want to be a university for Utah. We bring serious research to bear on issues such as clean air and obesity, and we train people to take those skills and solve societal problems."
The U's president is also a leader of one of the largest hospital systems in the West, a sort of mayor over a large part of the greater Salt Lake area, a representative of faculty, and responsible for campus safety, as well as diplomacy with the state Legislature. With bold aspirations applicable to so many people, Randall had no time to lose as he organized meetings, and listened, and learned.
"I hope the university is ready for him, because he's a mover and a shaker," says Rich Kaufusi, Opportunity Scholars program director at the business school. "We didn't bring someone in who we had to wait on to get started. We brought someone in who has already proven what he can do."
Dusk
By late September, darkness crept to the doorstep of day, and tragedy sucked the light out of campus with a phone call Randall hoped he would never receive. A voice on the other end of the line said, "President Randall, there has been a terrible incident," and in 10 minutes, he was out the door.
A few days later, students and faculty gathered in the courtyard of the Student Union for a candlelight vigil in honor of sophomore Aaron Lowe, a student-athlete who was killed off-campus in a moment that thrust itself between football games, school assignments, and the dreams of a 21-year-old. As the sun faded away, the dimness of the night reflected the sadness of Lowe's absence, punctuated by the light of hundreds of tiny candles held by his teammates and friends.
"I think in that light there is a promise," Randall said as he spoke to the crowd. "If we take his bright light and let it glow, we can be better."
Early in his career, Randall learned to want to make things better. As a grad student in Pennsylvania, he came to understand the importance of empathy through organizing a volunteer tutoring project in West Philadelphia. Graduation rates in the school system were below 20 percent, and despite recruiting other doctoral students to help, Randall never felt like his program was very successful at changing that number.
"Taylor doesn't ever shy away from the hard things," says Janet Randall, Taylor Randall's wife of 32 years. "He doesn't shy away from hard conversations, and he doesn't shy away from connecting with people and situations that are uncomfortable."
AT THE BEATING HEART OF RANDALL'S WORK IS A FOCUS ON STUDENT SUCCESS.
The experience of watching an educational system fail to meet the needs of its students was a formative one. After that, when Randall saw opportunities as a dean to invest in programs that would give people a chance, he did. As the oldest of five children in a close family where education was a preeminent focus, Randall grew up believing it was a gateway to promise and change. Around the dinner table, he taught his own four children the merit of critical thinking and debate, and the power of treating others—friends, students, and neighbors—like family.
Randall also encouraged business school faculty to go the extra mile when it came to helping students. Beyond examining the acceptance process, looking for inequities, and making sure students had a place to live, they reached out when students' families had difficulties, providing job leads and other support. As president, Randall has said he is committed to evaluating ways to overcome injustice and providing more opportunities to improve the student experience.
"I love his focus on, 'Let's make the student experience amazing,' " says Bassam Salem BS'93 MS'95 MBA'99 MPhil'04, a member of the University of Utah Board of Trustees, who participated in the presidential search process. "As an immigrant, his message of public impact really resonated with me. The focus on access and equity, that means a lot to someone like me who feels like I benefited from my experiences in higher education."
Repeat
From dawn to dusk, the day of a university president travels the span of hope and empathy, opportunity and obstacle. But with a dream at his core, Randall is prepared to not only persist, but to thrive. To him, the U is home, and leading the university is a privilege. At the end of the day, after phone calls and thank-you notes, and plans for tomorrow, he is ready to begin again—the next time it is dawn.
"This is the kind of job you go to bed and wake up thinking about," he says. "It's energizing, and for me—being able to invest in working for others—it's meaningful."
About the author: Amy Choate-Nielsen is associate editor of Utah Magazine.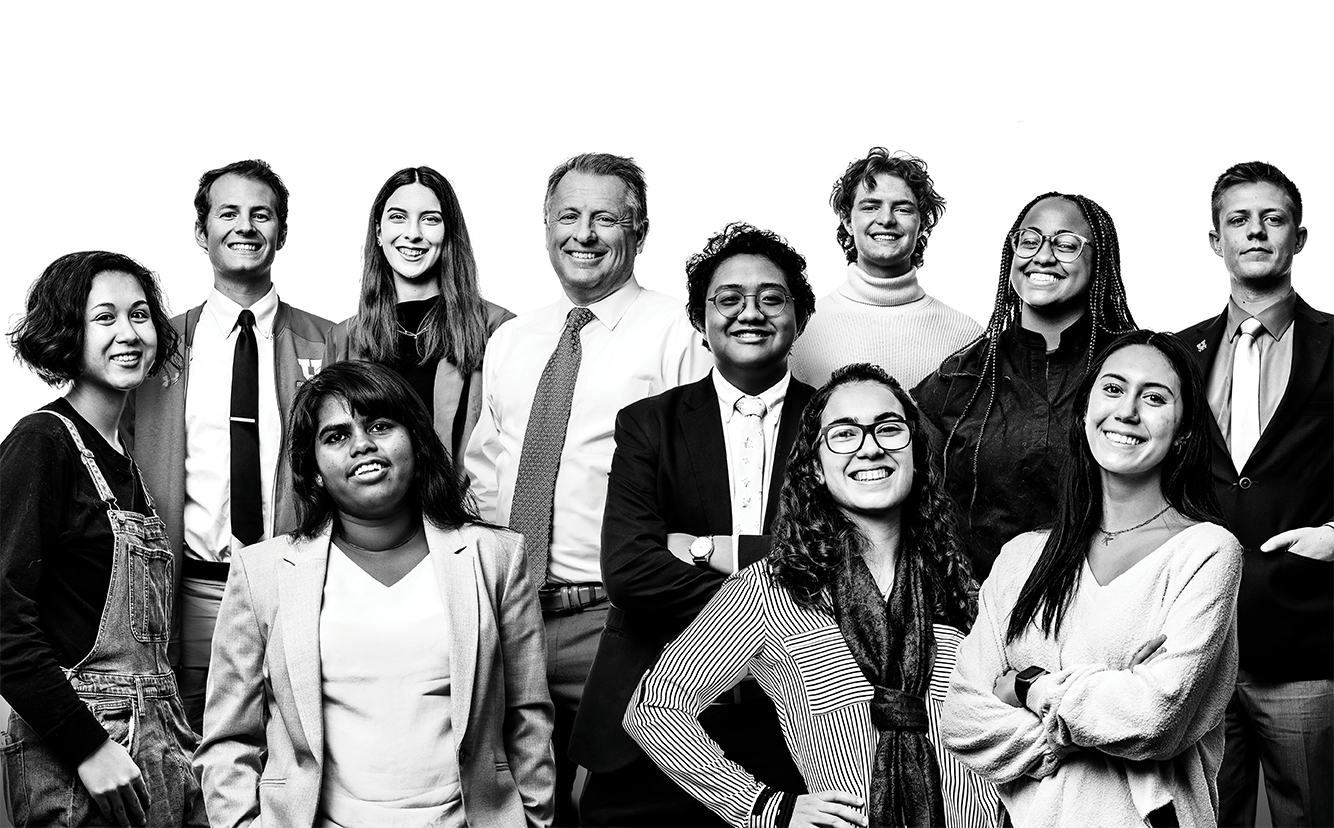 Hit the Books
Get to know President Randall by reading what he reads. From fiction to functional, here are some of No. 17's favorite tomes from the last two years: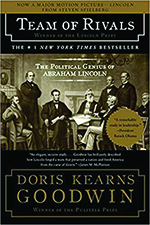 Team of Rivals: The Political Genius of Abraham Lincoln
DORIS KEARNS GOODWIN
A biographical story about Lincoln and members of his presidential cabinet.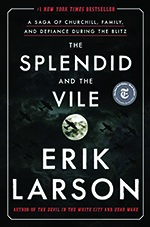 The Splendid and the Vile
ERIK LARSON
A nonfiction saga about Winston Churchill, his family, and London during the Blitz in World War II.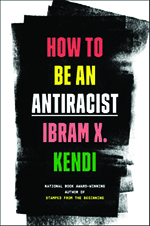 How to Be an Antiracist
IBRAM X . KENDI
A partially autobiographical book exploring concepts of racism and how to make systemic changes.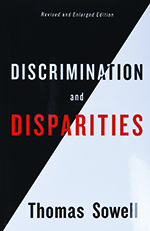 Discrimination and Disparities
THOMAS SOWELL
An analysis of causes of economic and social inequality.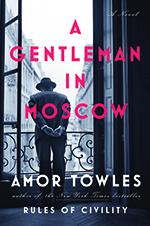 A Gentleman in Moscow
AMOR TOWLES
The imaginative story of a man sentenced to live in a hotel across from the Kremlin in 1922.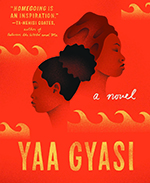 Homegoing
YAA GYASI
A tale of two half-sisters, one who was enslaved, and one who was not, and the experiences of their descendants, from the 18th century to Jazz Age Harlem.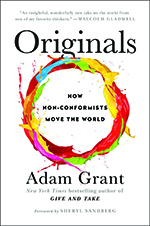 Originals: How Non-Conformists Move the World
ADAM GRANT
A nonfiction compilation of research into how one can nurture creativity and innovation.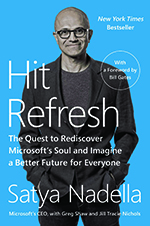 Hit Refresh
SATYA NADELLA
Microsoft's CEO reflects on his life experiences, how the company he leads reinvented itself, and the future of tech.