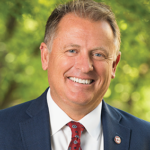 What does it mean to be Utah's flagship university? I believe it means that we have an obligation to serve the people of this great state. And that we can—and must—have a positive impact on the lives of all 3.3 million Utahns. Earlier this year, the U signed a new compact with the state, committing to lead; to deliver excellence in teaching, research, patient care, and community service; and to unify with our sister higher ed institutions.  
Like U presidents before me, I recently embarked on a statewide tour to meet with business owners, public officials, higher education leaders, and others to listen to their needs and discuss how we can work together to better serve their communities. I saw firsthand how our existing affiliations are flourishing—like aerospace internship programs in Weber County and the telehealth services we provide in Beaver County—and we came away with numerous ideas for new collaborations. You'll find more examples of current and future initiatives in this issue. We are committed to growing these efforts until we have a presence in all 29 counties in Utah.
One of the highlights of the tour was meeting with our remarkable alumni across the state and hearing your ideas for how our university can expand its impact and improve lives. Our alums are a powerful force in carrying out the U's mission, and I see evidence of that through the stories in every issue of this magazine. Whether you live in Utah or elsewhere in the country or world, your talents and expertise are helping individuals, businesses, and communities prosper. 
Thank you for the incredible work you're doing. I'm excited to see the impacts we make together as we continue efforts to improve lives in Utah and beyond.