The U has a bold vision to help all 3.3 million Utahns. In new efforts to move beyond the hill, we're partnering with communities in all 29 counties.
By Lisa Anderson
Illustrations by Cristiana Couceiro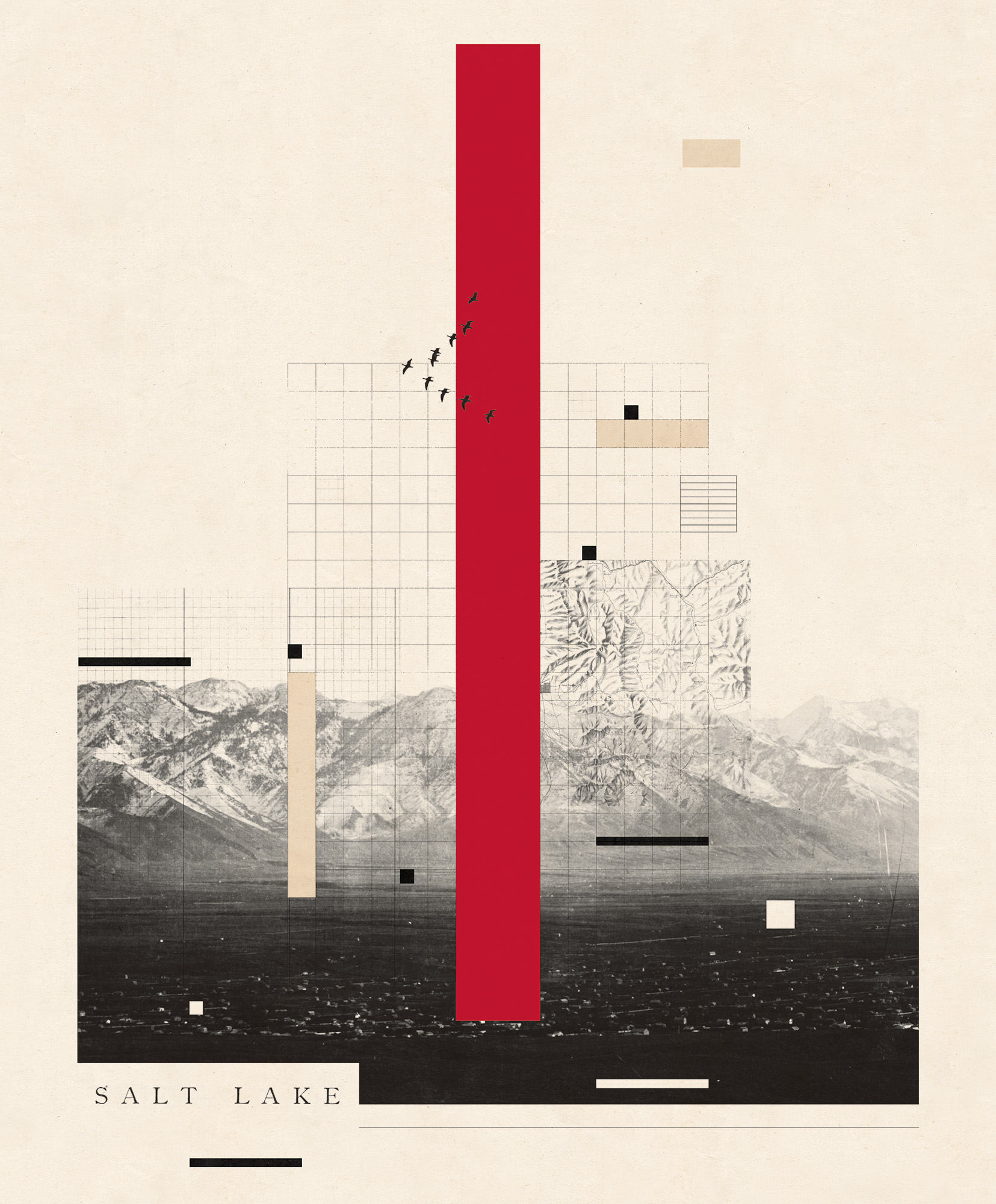 It almost sounds like a line from a Marvel movie. "As Utah's flagship university, we have a lot of reach, but also tremendous responsibility," says University of Utah President Taylor Randall HBA'90.
But before you start picturing that scene where Uncle Ben imparts his wisdom to Peter Parker, Randall would tell you his vision of the U's role in the state is not that of a superhero swinging down from lofty heights to rescue the citizens. "There's nothing more obnoxious than somebody coming into your community and saying, 'This is what we think you should do,' " he says at a breakfast with Cache County leaders at Logan's Herms Inn.
There's no question the U has significant impact and resources (see "Utah's Flagship University" below). The state invests heavily in the school, giving it an obligation to lead and share its expertise, says Randall. But it should lead with humility, partnership, and a listening ear.
This meeting with local organizations and elected officials is the first stop on his Utah Across Utah tour, taking him from northern pastoral valleys to southern red rock country, eastern mountain ranges to the West Desert. The tour is a chance to share his vision for how the university can deliver on higher education differently, with the goal of improving the lives of all 3.3 million Utahns. To do that, the U will need to extend even farther beyond the Salt Lake Valley, establishing a presence in all 29 Utah counties.
"We're here to listen and ask how we can be there for you," Randall tells higher education, business, and community leaders at each stop on the tour. "What opportunities would you like us to bring to your communities? How can we partner with you? What problems can we tackle together?"
The volume of responses makes it clear there's an eagerness for more collaboration with the U.
"In general, there's a perception of the 'university on the hill' that doesn't come down off the hill as often it should," says Logan City councilmember Amy Anderson. "So we appreciate that you're coming all the way up here." Even Provo City councilmembers admit to wanting to "see more red past the Point of the Mountain."
Randall explains that the U has rededicated its compact with the state through six commitments: to lead as the flagship university, to educate for the benefit of individual students and society, to apply our research expertise to the state's pressing issues, to serve communities as a public university, to provide expert medical care, and to partner with sister institutions of higher education. "We all have resources to bring to the table to improve the lives of Utahns," he says. "Let's work together to make it happen."
To that end, we bring you just a few highlights of how the U is creating and strengthening partnerships with businesses, governments, colleges, and universities in counties throughout Utah.
Preserving a Precious Resource
Davis County
Above the Great Salt Lake's wetlands, a hawk soars in a field of blue sky. Fledgling ducks skim the waters, their gold feathers bright against the marsh grass. Backlit by this sunny June day, a group of Utah legislators, scientists, and U administrators are holding a conversation in stark contrast to the peaceful scene.
"I don't think we have to exaggerate the gravity of the issue we're facing," says Randall. With the lake at its lowest recorded level, the environmental, economic, and health implications are, in Randall's words, "hemispheric."
In March 2022, the Utah legislature passed several water-related bills, setting aside $50 million for water conservation efforts. The policymakers in the room say it's just the beginning. Before determining next steps, they need more data. "We need the academics to identify what those critical research questions are, help us answer them, and then feed that back to us," says Representative Tim Hawkes.

The questions are numerous and complex. But the U's breadth of expertise helps provide a comprehensive picture of the problem. U geographer McKenzie Skiles MS'10, for example, measured the impact of Great Salt Lake dust on snowpack at Alta. The dark dust absorbs more sunlight, and Skiles found it accelerated snowmelt.
U atmospheric scientist Kevin Perry has extensively researched the dry soil surrounding the Great Salt Lake, measuring it for harmful heavy metals and determining where the "hot spots" are—areas of exposed lakebed where toxic dust plumes are most likely to occur. He and his colleagues have identified what the lake level would have to be in order to cover up the dust hot spots.
 "Higher education is uniquely positioned to leverage our expertise for exactly this type of effort," says U College of Science Dean Peter Trapa. "We can help prioritize ideas and solutions."
Now lawmakers will be able to benefit from the collective expertise of Utah's two Research 1 universities. Just weeks after the meeting at the wetlands, the U formed a Great Salt Lake Strike Team in partnership with Utah State University. The strike team will provide data and policy recommendations so legislators can make informed water management decisions.
"The problems facing the Great Salt Lake are large enough that they will require effort from all of us to solve," says Brian Steed JD'02, executive director of the Janet Quinney Lawson Institute for Land, Water, and Air at USU. "Combining the knowledge base and capabilities of the two research universities to help find solutions just makes sense. We expect great things to happen from this partnership." —With Paul Gabrielsen
Utah's

Flagship

University

Utah's largest employer, with
39,300
employees

550+
buildings  

2 million
patient visits per year

$641 million
in research funding in 2021

Confers
1/2
of the state's graduate degrees


Trains
2/3
of Utah's physicians


Home to the state's 

- Medical school
- Dental school
- Cancer institute
- Mental health institute
- Pharmacy school
- Law school
- Art museum
- Natural history museum
- Arboretum
Building Sustainable Economies
Carbon and Emery Counties
When coal production began to decline in Utah's coal country, the region started heading the way of Appalachia—the veritable canary in the United States' coal industry. The effects of coal mine closures in Appalachia served as a predictor for the economic futures of similar areas in the United States.
That includes Carbon and Emery counties. Coal production in Utah's high eastern desert has gone down by 47 percent since its peak in 2001, and in recent years the counties have seen significant economic decline, rising unemployment, housing problems, and a growing opioid crisis.
To help the two counties transition away from coal production, the Kem C. Gardner Policy Institute at the University of Utah organized the Coal Country Strike Team, a coalition of elected officials, public policy experts, business and community leaders, and higher ed leadership. 
The Strike Team says the move away from coal is rightfully placed. Nevertheless, it carries consequences.
"The benefits of combating a warming climate are widespread, but the costs are concentrated," says Coal Country Strike Team co-chair and Gardner Institute director Natalie Gochnour BS'84 MS'88. "Utah's coal country is the most economically distressed area of our state."
Diversifying the economy is key. One Strike Team goal is to bring Utah's Silicon Slopes tech hub southeastward by providing technology workforce training programs and IT degree scholarship funds. The region's tourism economy has significant potential for growth as well. Known as the Red Rock Gateway, the area includes natural treasures like the San Rafael Swell and Nine Mile Canyon. Strike Team grants have helped with Green River restoration projects and Main Street revitalization for the cities of Price and Helper.
"We have a vision to diversify and invest in a bright future for our children and grandchildren," says Price City's mayor, Mike Kourianos. "We value partnerships like we have with the University of Utah to help us create a more well-rounded economy moving forward."
Partnering to Protect Workers
Weber County
There's a U program that tends to fly under the radar—the campus radar, at least. But it's one of the most visible faces the university has in the business world, impacting an estimated 8,000 companies in a six-state region.
The Rocky Mountain Center for Occupational and Environmental Health is one of just 18 educational research centers designated by the National Institute for Occupational Safety and Health. It doesn't just train the workforce—it also conducts research on workplace hazards from carpal tunnel syndrome to chemical exposures. The center even researches occupational psychology (turns out it's more than just annoying when your coworkers are late to meetings—it affects productivity and morale).
Now, an innovative partnership with Weber State University is enabling the center's growth, adding an undergraduate degree and occupational health nursing program to its graduate degree offerings. The partnership is expected to add about 30-40 professionals to the workforce annually. 
"This partnership allows us to expand efforts relating to research, educating students, and ultimately helping businesses while protecting worker health and safety in Utah and the surrounding region," says Weber State University President Brad Mortensen PhD'09.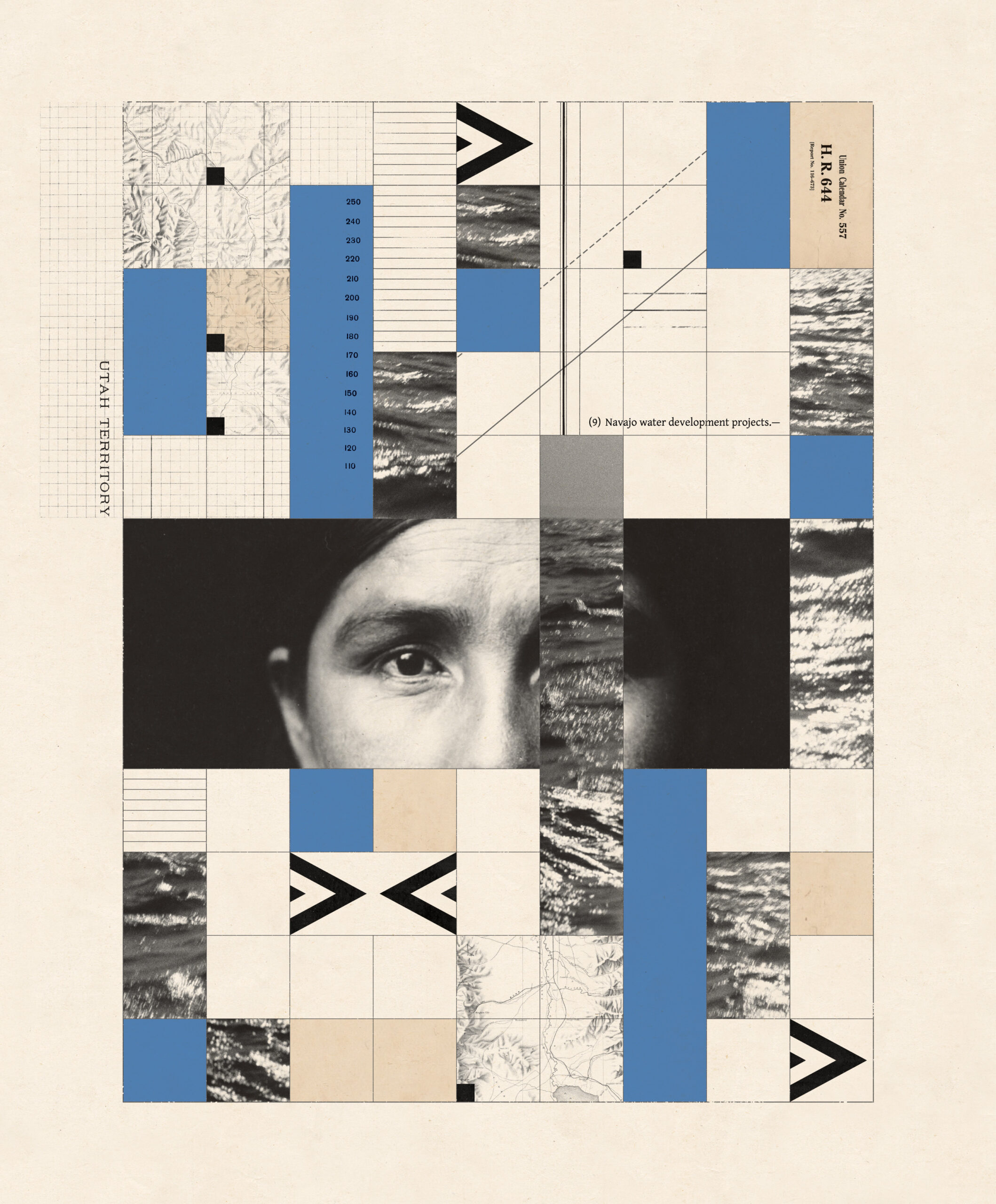 Advocating for Tribal Water Rights
San Juan County
In May 2020, the Navajo Nation surpassed New York for the highest COVID cases per capita. A contributing factor was lack of access to clean water for hygiene and sanitation, says Heather Tanana JD'10 (Diné), assistant professor at the U's S.J. Quinney College of Law. "An estimated 30-40 percent of Navajo Nation residents don't have piped water in their homes," she says.
The Water & Tribes Initiative—a policy group focused on advancing sustainable water management for Indigenous peoples—turned to the U for help. The group recruited Tanana to report on clean water access for Colorado River Basin tribes. Her report helped inform the Tribal Access to Clean Water Act, introduced in the House of Representatives in 2022.
A legal expert and citizen of the Navajo Nation, Tanana understands the area and the importance of including tribal voices. "Historically, tribes have not been involved, and not by their choice," she says. "We want to provide tribes with the information they need to be able to meaningfully negotiate."
Bringing Museums to a One-Room Schoolhouse
Juab County
Driving out to West Desert Elementary requires preparation, says Katie Seastrand. "You have to make sure you have plenty of gas and that your car can handle the dirt roads."
As manager of school programs for the Utah Museum of Fine Arts (UMFA), Seastrand brings art projects and lessons to schools all over the state, including this one-room schoolhouse in Juab County near the Utah-Nevada border. At 50 miles from the nearest paved road and 90 miles from the nearest grocery store, it's one of the most remote schools in the lower 48.
It means a lot that UMFA makes the long trek to share a museum experience with students, says West Desert teacher Eleazer Murphy. "In our rural environment, we work hard to expose our students to experiences that will help them connect to important historical and cultural concepts," he says. "The exposure they are able to get from wonderful groups like UMFA really helps us in our efforts of expanding their horizons."
The Natural History Museum of Utah also visits West Desert Elementary as part of its K-12 outreach program, bringing fossils and artifacts to an average of 300 schools per year. For its part, UMFA tries to visit every school district in the state within three years. Seastrand tells students and teachers that while UMFA is part of the U, it actually belongs to the state. That means, she says, "We're your art museum."
Expanding Health Care in Rural Communities
Washington County
Cradled by the craggy, red-rock Vermilion Cliffs, the isolated community of Short Creek is located 30 minutes from clinics in Hurricane, 50 minutes from hospitals in St. George, and two hours from health care in Arizona. Combine that with high levels of poverty and it's no wonder the community is as much a health care desert as a literal one. By the time Richard Bennett arrived, it was hard to picture an area more in need. Diabetes, hypertension, heart disease, dental problems, and many other chronic health conditions were running rampant.
University of Utah Health hired Bennett in the summer of 2017 to open the first satellite office of the physician assistant program in St. George, part of its mission to extend reach to underserved communities. A partnership with Utah Tech University and St. George Regional Medical Center helped bring the No. 4-rated PA program in the country to this largely rural region. The campus acts as a hub, with the program's 24 students rotating to remote clinical sites throughout the area.

Short Creek became one of the first benefactors of the program when Bennett organized two health fairs in the community in 2018 and 2019. PA students, U of U Health physicians, and the School of Dentistry—which also operates a St. George campus in cooperation with Utah Tech—provided what was the first medical and dental care in years for many residents. Today Short Creek has its own federally qualified health center, and U of U Health serves as a community partner.
The St. George campus is helping fill a need for more rural health care providers, with 44 percent of graduates going on to work in rural areas. Eliezer Bermudez, dean of Utah Tech's College of Health Sciences, says the partnership between the two schools has benefited Utah Tech students by giving them more hands-on experiences.
"Students in the PA program and other health care programs collaborate in interprofessional education activities and learn from and with one another," says Bermudez. "This collaboration is a victory for students, patients, and the community."