For the second year in a row, the U took the Pac-12 championship and went on to the Rose Bowl. In a matchup between two top 15-ranked teams, the No. 11 Penn State Nittany Lions ultimately came out on top, defeating the No. 8 Utah Football team 35-21. The Utes put up a strong fight, finishing the game with 391 yards of total offense, including 207 passing yards and 184 on the ground. However, it was the Nittany Lions' ability to make chunk plays, averaging 8.3 yards per play on offense and 17.4 yards per completion, that proved to be the deciding factor. In addition to the U team's impressive performance on the field, U Alumni partnered with Penn State alumni to volunteer at the Los Angeles Regional Food Bank.
In 2022, for the fifth year in a row, at least 93 percent of student-athletes at the U graduated within six years of enrolling. The U is tied for the fourth-highest figure among Power Five public institutions and ties for the sixth-highest score among all institutions at the Power Five level.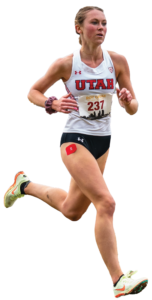 Cross country runners Emily Venters and Simone Plourde were named to the All-Pac-12 First Team last fall. Venters, who was also named the Pac-12 Scholar-Athlete of the Year, finished second at the Pac-12 Championships, and Plourde came in fifth.
A new Runnin' Ute and Red Rocks Express is shuttling fans from the Guardsman Way Tailgate Lot and the Broadcast Center Lot on Wasatch Drive for all home men's basketball games and women's gymnastics meets. The free service begins about 90 minutes before each scheduled event start and runs as demand warrants, until after each event ends.
In a visit to the Magnolia State, the U women's basketball team added yet another record to the books in a historic victory over Mississippi Valley. Led by top scorer Alissa Pili, the Utes registered a 109-42 win to secure the largest score differential ever seen in a road game.