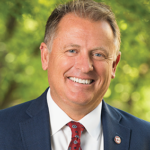 You've probably read about the looming demise of higher education. I don't buy it. Last fall, the U admitted a record class of first-year students for the third year in row. We're on track to grow our student body from just under 35,000 to 40,000 over the next five years. As college and university enrollment decreases nationally, we have a plan to become a top 10 public university with unsurpassed societal impact. To do this, we will continue to defy national trends in higher education.
An important aspect of our plan is to focus on grit—the determination and moxie required to excel despite challenges. We enroll students from all walks of life who have shown remarkable grit. Some are third- or fourth-generation college students; others are the first in their family to contemplate college. Many have spent long hours practicing an instrument, learning an art, training for a sport, or mastering a difficult skill. Some worked through high school to help support their families. Others may be enrolling after raising a family. No matter the circumstance, we welcome all hardworking, resourceful, and dedicated students at the U… and we want more.
Along those lines, last fall the U joined the University Innovation Alliance (UIA), a coalition of 15 public research universities working to increase graduation rates among low-income, first-generation, and students of color. I believe UIA members can break the "this is how we've always done things" mold and rethink student engagement, development, and success. 
Within the pages of this issue, you'll find stories of students, faculty, and alums with incredible grit. They are helping us redefine higher education. And you, our alumni and friends, have your own inspiring stories of persevering through challenges. It will no doubt take this kind of grit to become a top 10 public university with unsurpassed societal impact—together, we can get there!