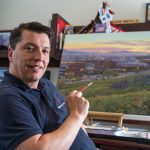 You've seen his artwork on the Welcome to Utah signs as you drive into the state. And you've probably strolled past it at the City Creek Center mall and Salt Lake City Airport. You may have even bought one of his postcards from the 2002 Olympics. But what you may not know is that the artist behind these memorable landscape paintings is an alum and a nearly 30-year employee of the U.
David Meikle BFA'94 MFA'06 has worked for his alma mater as a graphic designer and now art director while he honed his skills as a landscape painter on the side. "I love the red rocks and the mountains. I love painting what I live with, what I understand, and how I see the world around me," he says. A few of his paintings are shown here.
Another place you've seen his work is as a designer and illustrator for this very publication on and off since 1992, just a year after its inception as Continuum magazine.