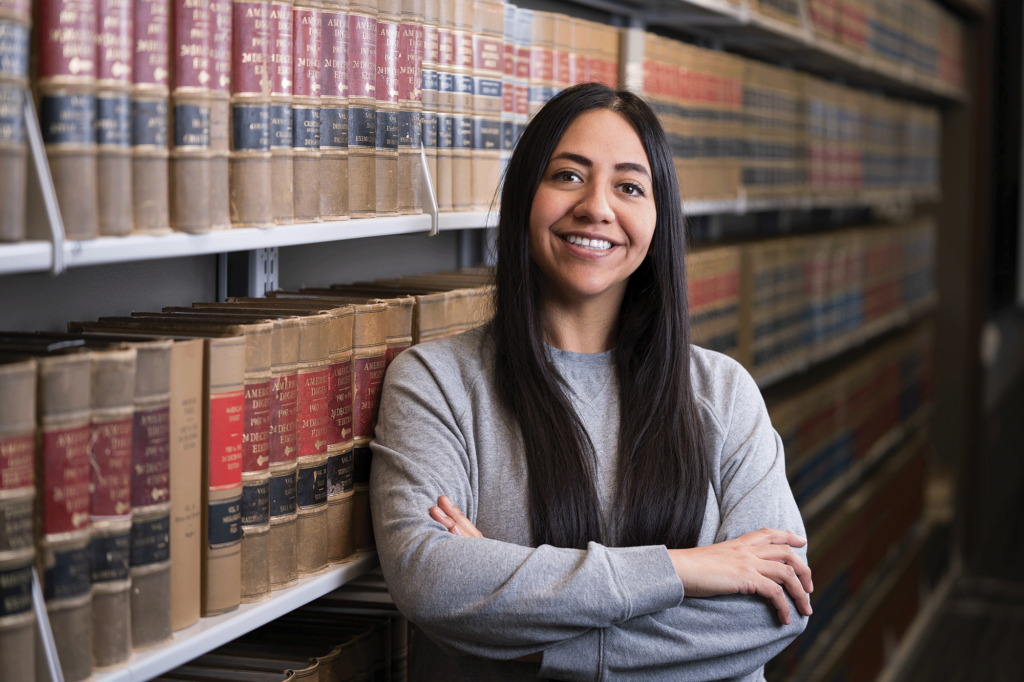 When Heidi Chamorro-Leon BA'11 HBA'11 JD'15 questioned whether she could be admitted to a Utah law school with an undocumented immigration status, an advisor asked her to consider: Will you be doing this for nothing?
Chamorro-Leon was aware that the Utah bar would likely not let her sit for the exam because of her immigration status. Still, she was determined to earn a law degree. Her response to the advisor: " 'But I can apply, right?' That's all I wanted to know."
Born in Oaxaca, Mexico, and brought to the U.S. as a child, Chamorro-Leon says she was drawn to the legal profession because of her grandfather, an attorney in Mexico. She applied and was accepted into the U's S.J. Quinney School of Law, hoping that by the time she graduated, the Utah bar rule would have changed or she'd have options in other states.
In the meantime, she obtained Deferred Action for Childhood Arrivals (DACA) status. As a "Dreamer," she had authorization to work. But she still couldn't sit for the bar in Utah after graduating. So she decided to take action. She teamed up with a law grad from BYU and petitioned the Utah Supreme Court to change the rule—and they succeeded. In 2020, the court announced "Dreamers" could now take the bar and practice law in Utah.
Chamorro-Leon credits the U's Pre-Law LEAP program with giving her the confidence to pursue law. Part of the Office of Undergraduate Studies, LEAP programs have helped students adapt to college life for nearly three decades. They're academic learning communities of 25-30 students who take a set of classes together, usually with the same professor. The U offers 12 LEAP programs, each centering on a specific area of study.
"Being part of a cohort gives students a place of belonging," says Ann Engar, who teaches five of the six Pre-Law LEAP classes. She says the program was created to help students from underrepresented groups enter the profession and provides them with a close support network as they pursue their career goals.
Now that Chamorro-Leon has achieved her goal of becoming an attorney, she says it was well worth the effort.
"I love being in a position to help people," she notes. "There's something so empowering about clients coming to you with their problems and trusting that you can help solve them."