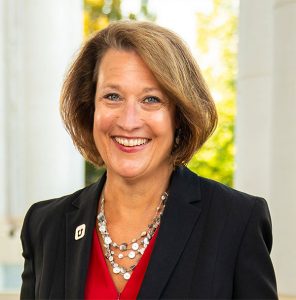 By the time you receive this issue of Utah Magazine, Dr. Michael Good will be in a new role as interim president at the University of Utah. As I announced in January, I have assumed a new position as president of Strada Impact, which is dedicated to improving students' college access, degree completion, and career connections. At Strada, I will be able to broadly share innovative strategies for driving student success, including those implemented at the U with outstanding results.
Dr. Good is widely respected on our campus and in our community, and he will provide the steady, confident guidance the university needs to thrive in the months ahead. He and a talented team of senior administrators are working hard to ensure that the U's momentum continues even as the search for a new president proceeds.
When the search is completed, the U's 17th president will find a campus community that is welcoming and united, one that is eager to do more, be more, and imagine more. This is a university that is leading by example in our state and our nation, making remarkable strides on all measures. Our student body has increased in size and diversity. Our six-year graduation rate hovers at an impressive 70 percent. Research funding hit a milestone of nearly $603 million in 2020. University of Utah Health, which now serves 2 million patients a year, continues to be a top-ranked system in patient quality. We reached our Imagine New Heights capital campaign goal of $2 billion at the end of 2020, two years ahead of schedule.
As alumni, you have played a key role in our success. You helped lift our university during your time here and now continue to be change agents in your careers and in your communities, bringing recognition and accolades to the U.
For all these reasons, I leave knowing that the University of Utah is in excellent hands, that its progress will continue to accelerate, and its reputation will continue to rise. I wish you all the very best.
Ruth V. Watkins
President, Strada Impact
16th President, University of Utah