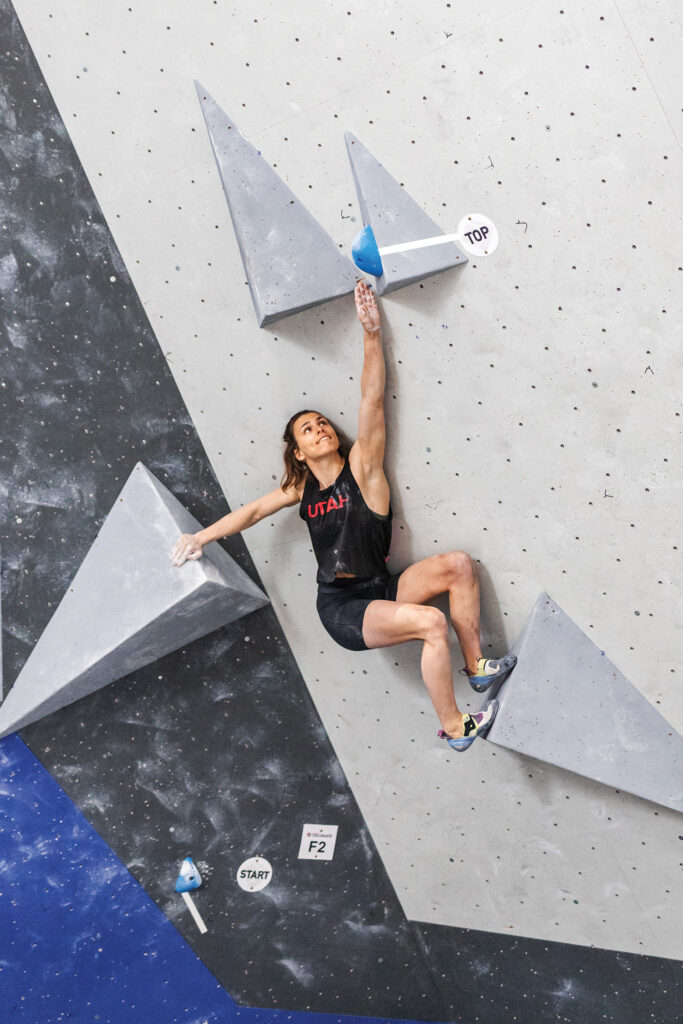 For college students with lofty rock climbing dreams, fewer places are proving more ideal than the U. Besides an abundance of outdoor rock nearby and an impressive campus climbing gym known as The Summit, the U is home to one of the country's most successful climbing teams. The student-run team formed in 2014 and for the past five years has placed either first, second, or third in individual categories at the USA Climbing Collegiate National Championships. 
The team had its best showing yet in this year's championships, grabbing gold in all categories—bouldering, lead, speed, and overall. After divisionals, 16 members of the 40-person team moved on to nationals, where Cloe Coscoy, Stefan Fellner, Audrey Miller, Charlie Osborne, and Darren Skolnik earned spots on the podium. Nine team members went on to the FISU World University Sport Climbing Championships in Innsbruck, Austria, with Skolnik taking second in men's speed.
The strength of the U team is contributing to the region's growing reputation as a mecca for competitive climbers. Utah's mountains and red rock cliffs have always been a draw for hobbyists, but the state leveled up when USA Climbing moved its headquarters to Salt Lake City in 2018. As the national governing body of the sport, USA Climbing hosts elite events and Olympic hopefuls. Rock climbing became an official Olympic sport in 2020, and USA Climbing's top-tier gym serves as Team USA's training center. 
Rock climbing may someday become an NCAA sport (USA Climbing is working on it), but until then, U students will continue to steward the team's success. Says team member Fellner, "The climbing team is looking to maintain our status as the best place for students to pursue climbing at a high level."