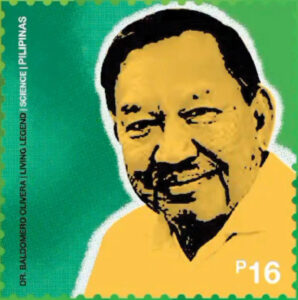 Folks in the Philippines might just be putting celebrated U scientist Baldomero "Toto" Olivera on their envelopes the next time they mail a letter. Olivera was recently selected as one of 10 Outstanding Filipinos for a set of commemorative stamps. 
The Distinguished Professor at the U's School of Biological Sciences originated research on marine cone snails, demonstrating the therapeutic potential of their venom, already resulting in an FDA-approved drug. The U's biochemistry and pharmacy departments (U of U Health) are currently expanding on some of this work.
Olivera's early research contributions include the discovery and biochemical characterization of E. coli DNA ligase, a key enzyme of DNA replication and repair that is widely used in recombinant DNA technology.
The Post Office paid tribute to five Philippine cinema queens, two legendary athletes, two internationally recognized scientists, and one critically acclaimed painter who have uplifted the nation with their excellence.
"The 10 Outstanding Filipinos honored by the Post Office have dedicated their lives and talents to the Filipino people. So, they deserve to be immortalized in our stamps, to inspire not only Filipinos but every nationality who will see our stamps. We are proud of their accomplishments," Postmaster General Norman N. Fulgencio said in a news release.