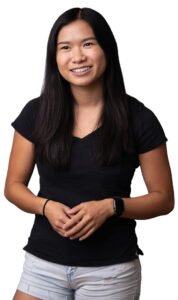 At just 12 years old, Vicky Nguyen BS'20 found herself acting as a medical interpreter. Her sister had been experiencing seizures, and Nguyen's parents, whose first language is Vietnamese, needed someone to translate as the pediatrician explained the MRI results. 
"The doctor was saying my sister had a tumor in her head," Nguyen says. "I thought, I don't even really know what that means. How do I say this to my parents?"
Her sister underwent surgery and eventually recovered, but the experience stuck with Nguyen. 
"Seeing the language barriers and other health disparities that my family went through made me recognize that this is something I felt passionate about," she says. "I wanted to help other people who experience the same issues."
After earning a bachelor's in kinesiology and nutrition from the U, Nguyen enrolled in the physician assistant program. She aims to go into family medicine and work with the Vietnamese community and other underserved populations. 
Growing up, Nguyen always knew she would go to college. Her parents emphasized the importance of earning a degree, saying it was the key to more opportunities and financial security. Nguyen's father had been scrambling to earn money since he was a child. At 10 years old, he would cook sweet potatoes to sell at school so his family could afford dinner. 
"My parents wanted my sisters and me to not live the same life," Nguyen says. "They want us to have good careers and be happy."
Though going to college was a given, being able to afford it was not. She credits the U's Larry H. and Gail Miller Enrichment Scholarship for making her education possible. For 20 years, the program has been providing funds for students from groups underrepresented in higher education and those who are first in their families to attend college.
"Receiving an education can help transform a young person's life," says Gail Miller, chair of the Larry H. & Gail Miller Family Foundation. "It's amazing to see each student grow and accomplish their goals throughout their time at the University of Utah. The world needs more leaders like these students who aspire to make the world a better place."
Nguyen says that without the scholarship and the generosity of the Miller family, "I wouldn't be where I am today. It means the world to me."