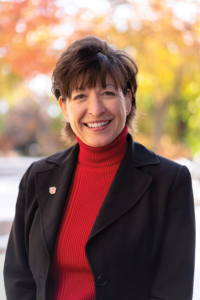 The U has a new provost and senior vice president for academic affairs. In this role, Mitzi M. Montoya is responsible for setting the academic vision and strategic focus of the U. 
"I am honored and thrilled to join the outstanding faculty of the U and move to the beautiful state of Utah. The steady trajectory of the university is impressive, and I am inspired by President Randall's bold vision for the future," says Montoya. "I look forward to working together with the entire leadership team to build on the momentum and help the U achieve its goals."
Montoya brings strong leadership skills to the position at the U, including experience gained as dean of the Anderson School of Management at The University of New Mexico; dean of the College of Business at Oregon State University; and vice president and university dean of entrepreneurship and innovation, as well as dean of the College of Technology & Innovation, at Arizona State University. Montoya is a professor of marketing and received her doctorate from Michigan State University.
Montoya follows Martell Teasley, who had served as the U's interim senior vice president for academic affairs since January 2022. He led the academic enterprise through a presidential transition and the continued unwinding of the COVID-19 pandemic. 
"I welcome Dr. Montoya to Utah and look forward to supporting and working with her in the years ahead," says Teasley. "We have much to accomplish to become a model public university, and I want to make sure that during this transition and over the longer-term horizon, we don't miss a beat."