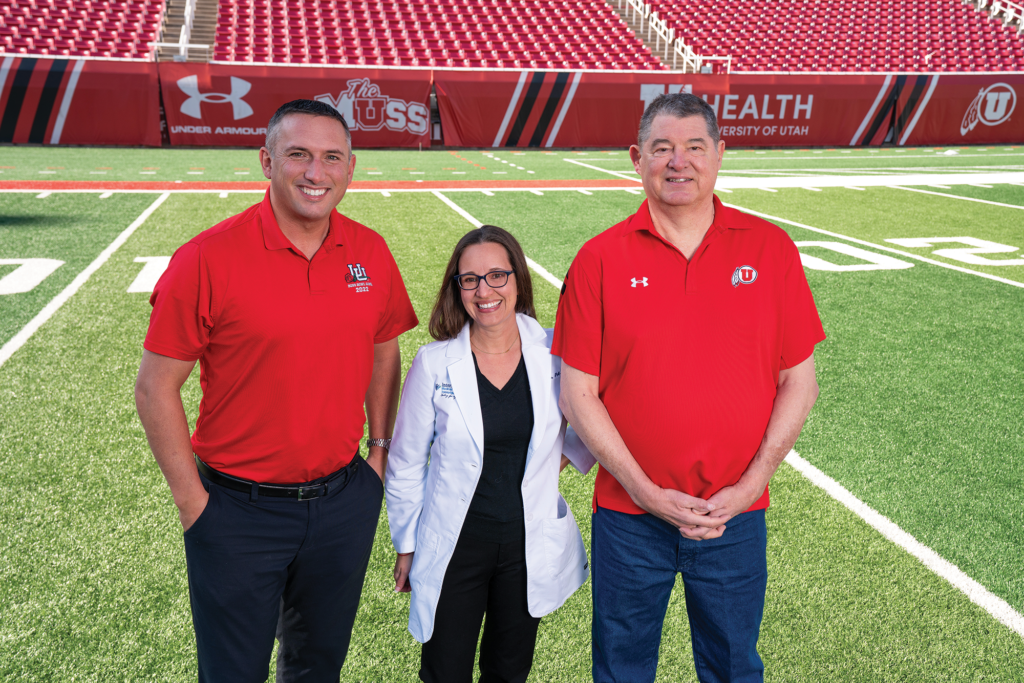 When Bob Bedont BS'79 met Danny Soulier BMU'03 at Rice-Eccles Stadium in 2000, he had no idea just how significantly Danny would impact his life. At age 40, Bob had become the "voice" of the University of Utah Marching Band and found himself striking up conversations with drum section leader Danny. Though a generation apart, "We just hit it off," Bob notes. "We developed a friendship that's lasted years."
Bob stayed with the band until illness put him on the sidelines. In 2019, he learned his kidneys had failed. He started dialysis and eventually was placed on the organ donation list. Organs from deceased donors are so limited that patients wait years, some even dying before getting their chance, says Anna Petersen BS'02 MPAS'07, a physician assistant on Bob's kidney transplant team at Intermountain Healthcare.
Eleven family members and friends offered to give Bob a kidney. But in each case, hope turned to disappointment when none met the strict health requirements. Word about Bob's situation reached Danny, and he immediately felt the need to act. "Bob needs a kidney, I have an extra one—let's make this happen," he remembers thinking. "I had no hesitation."
Danny met the requirements, but he wasn't a match. This time, however, Bob wouldn't be disappointed—the National Kidney Registry facilitates paired donations in such cases. Danny's kidney went to a matched recipient in the registry, and Bob received a kidney from a matching donor. If it weren't for Danny, Bob would likely still be waiting years for a transplant. "It means the world that I was able to help him," says Danny.
Anna says she found Bob and Danny's story so powerful because "this was just a happenstance friendship. Sometimes you cross paths with people and you don't know the impact they're going to have."
Bob says he's still amazed at Danny's donation. "I'm not a family member. He had no obligation to do this other than he wanted to help a friend. That's the definition of love to me."