Move over, Malibu Barbie—there's a new doll in town. And instead of high heels and a purse, this line of toys comes with cameras, telescopes, and Arctic coats. U forest ecologist Nalini Nadkarni was recently tapped to help create a new line of Barbies in partnership with National Geographic and Mattel. The new Barbies include Wildlife Conservationist, Astrophysicist, Polar Marine Biologist, Wildlife Photojournalist, and Entomologist.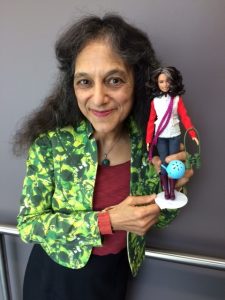 Nadkarni served on a five-member advisory board, consulting on the creation of the dolls to provide authenticity. The line was designed to focus on the science, technology, engineering, and math (STEM) fields, where women are historically underrepresented. But even before partnering with the national organizations, she was no stranger to making Barbies with a knack for nature. In fact, for more than 15 years, Nadkarni, a passionate science communicator, has been buying up Barbies from thrift stores and finding small helmets on eBay to make her own Treetop Barbies to sell at cost. She even got volunteer tailors to put together outfits, and each toy included a booklet on rainforest canopy plants to accompany the doll.
"In 2019, adventurous Barbies who have exciting scientific professions are on Mattel's radar, as they have figured that there is a market for them," says Nadkarni. "That shows amazing progress of a corporation, and of society."
More on this story, click here. And to learn more about Nadkarni's treetop adventures, see this past Continuum feature.