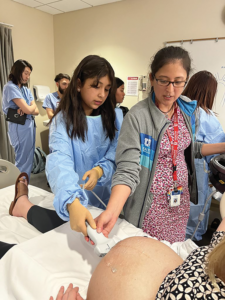 Some of the latest campus guests who've come to learn about potential careers weren't as tall as most student recruits. Perhaps that's because they were still in elementary school. After writing essays on what they would like to be when they grow up, 170 fifth and sixth graders from local schools were treated to a catered career day on campus with nine themed career experiences ranging from nursing to education and athletics. 
The venture connected U of U Health and University Neighborhood Partners with several schools in West Valley City that have student populations made up of diverse learners, with close to 47 percent of students identifying as Hispanic or Latino, says RyLee Curtis BA'12 BA'12 MPP'14, community engagement director for U of U Health.
For Whittier Elementary School Principal Jennifer Bodell, Imagine U Day presented a unique opportunity to encourage her students to think about college.
"For these students to see that being successful on a college campus can be a reality for them, it's truly just incredible," says Bodell. "It's also a unique opportunity for us as educators to send our students off to junior high ready to learn—to follow their passions and to know that at the end of their K-12 journey, they are ready for higher education."
In its second year, Imagine U Day is designed to engage with and build lasting partnerships with students, parents, and educators in westside communities, notes Curtis. It has now expanded from a single elementary school to three and aims to illustrate that a secondary education is obtainable, and all are welcome.