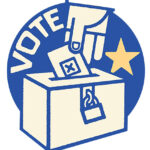 In a time when all eyes are on the health of America's electoral process, a new approach to voting may provide political parties with a better way to enhance its representation of diverse voices.
In an analysis of the 2020 Democratic presidential primaries that used ranked-choice voting (RCV) for the first time, a team led by Baodong Liu, professor of political science at the U, discovered that this new approach was effective in providing consensus for selecting a presidential candidate, while acknowledging the desires of diverse voters. His report was published by New America, a Washington, D.C.-based policy institute.
The Democratic Party used the RCV model in Alaska, Hawaii, Kansas, Nevada, and Wyoming in the 2020 election to determine the party's presidential nominee and allocate delegates for the national convention. Voters selected their top five candidates in order of preference instead of just selecting one candidate, as in traditional voting. Candidates who received 15 percent or more of the vote received a proportional number of delegates for the convention, and candidates who received less than 15 percent of any of the votes were removed from contention.
Compared to a regular election, the RCV results were surprising, Liu said.
"Anybody who says Americans don't pay attention to politics, these results are just completely in total violation of their assumption," Liu says. "Americans are brilliant. They knew how to rank their candidates, and they treated the process very seriously."
Through RCV, voters who didn't select the leading candidate still influenced the party platform by expressing their choice for an alternative candidate. Because delegates at the national convention were assigned proportionally to candidates with at least 15 percent of votes cast, multiple candidates influenced the party platform, instead of just one.