In what was described as a landmark contribution, two Eccles family foundations announced a $110 million gift to the U's School of Medicine. The gift from the George S. and Dolores Doré Eccles Foundation and the Nora Eccles Treadwell Foundation includes $40 million for an endowment to enrich student scholarships and recruit top-tier faculty, as well as $40 million for research, focused on cardiovascular science and heart disease. And $30 million will be used for the new home of the medical school.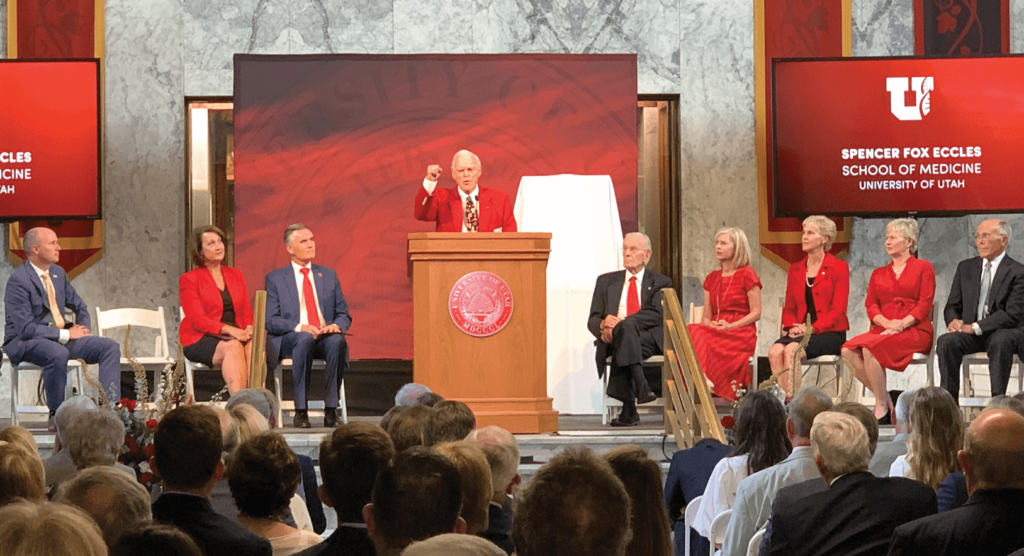 These resources will allow the School of Medicine to develop innovations in health care—especially for rural and underserved populations, advances in teaching models, and, eventually, to make future increases in the size of the medical school class possible. "Our newly named school will join the ranks of the nation's preeminent named institutions," says interim U president Michael Good. "We will not just adapt to the future of medicine—we will define it."
The timing of the gift also holds special meaning for the School of Medicine and the Eccles family. Fifty years ago, the Spencer S. Eccles Health Sciences Library was the first significant capital project at the university to be funded by the Eccles family. Since then, Spencer Fox Eccles BS'56 (Spencer S. Eccles' son) has dramatically expanded his family's vision. The Eccles family and associated charitable foundations have been major donors to U of U Health and other areas at the U. Thanks to that storied history, the medical school will be renamed the Spencer Fox Eccles School of Medicine.
"I have long believed that no state or region can become truly great without a world-class medical center at its nucleus," says Spencer Fox Eccles. "We hope this seminal grant—the largest ever awarded by our foundations—will help ensure the university not only provides the highest quality medical education for the doctors who serve Utah and the entire Intermountain West, but also furthers the excellence of health care for all our citizens and impacts the future of medicine through its groundbreaking research."