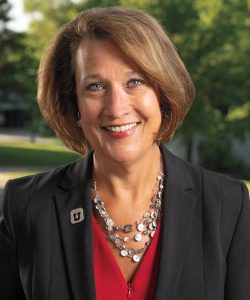 At the University of Utah, as across the country and around the globe, we are embracing change.
From the coronavirus pandemic to justified calls for racial equity, we see a new world before us—one with new health problems to solve, new innovations to discover, new partnerships to form, new opportunities.
This is, quite frankly, a moment when our communities, our state, and the nation need research universities to lead the way. At the U, we are ready.
Our health care providers and researchers are on the front lines of figuring out how to test, trace, treat, and prevent coronavirus. Our educators are expanding the ways they deliver an exceptional educational experience. Our policy thinkers are working with state officials to ensure a swift and steady economic recovery for Utah. Our senior leaders are taking us forward as we strive harder to be equitable, diverse, and inclusive. Our staff are reaching out to students to support them in every way we can in their educational journeys, because this is the time to pursue a degree with even more vigor.
You should be proud of your university. I am.
We have another chance to shine this fall with the U hosting the vice presidential debate at Kingsbury Hall. Do debates change hearts and minds? It's a good question, and our cover story shares what the experts have to say on that point. I hope you find the story a good primer for this election season.
President Ruth Watkins