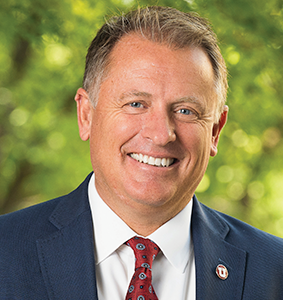 I've read our university magazine over the years through many lenses—as an alum, a faculty member, a parent, a dean, and now as president. Each of these roles has fueled my passion for the U in new and inspiring ways.
But I must admit, the vantage point I've had during my short time as president has grown my appreciation for this university tenfold. The resiliency of this campus is strong; the momentum and energy are palpable. I wish everyone could see firsthand the daily collective efforts to move our university forward.
Over the past few months, I've participated in numerous listen and learn sessions with groups across campus where we've talked candidly about challenges, priorities, and bold ideas that will continue to drive the U as a leading public university. I'll share a few of my takeaways.
First, it's exciting to see so many areas of excellence at this university. I thought I was familiar with our strengths, but I keep discovering more. Second, I've been impressed by the incredible vision at every level—from colleges and departments to arts and cultural organizations to our thoughtful student leaders. And third, I've been encouraged to see many of the same priorities emerge: student success and well-being, campus safety, freedom of expression, quality health care, equity and inclusion, societal impact, and research innovation.
You need look no further than the pages of this magazine for examples of these efforts. The Lassonde Institute celebrates 20 years of launching student careers, and the new proton therapy center at the Huntsman Cancer Institute is innovation at work targeting tumors. We can and do change lives at our university.
I'm honored to serve as your president and can't wait to get to know more of you—my fellow alumni—and to hear how you, too, are having an impact in the world.