Where there's natural gas production, there's methane—a potent greenhouse gas with 85 times more global warming potential than carbon dioxide over the first 20 years it's in the atmosphere. It's nearly impossible to keep every component of the gas production process airtight, so methane—the main component of natural gas—can leak along the way. 
Addressing methane emissions is a crucial part of the climate conversation. But scientists have little long-term data on those emissions from wells and pipelines, making it hard to answer questions about sources, magnitudes, and trends. Answers are starting to come from the Uinta Basin in eastern Utah. Known as Utah's dinosaur country, the area is home to several fossil fuel producers. U researchers partnered with the Bingham Research Center at Utah State University's Uintah Basin campus to conduct what may be the longest continuous methane-monitoring study in an oil- and gas-producing region.
Between 2015 and 2020, the researchers observed, methane emissions in the Uinta Basin approximately halved as natural gas production did the same after fossil fuel prices collapsed following 2014. However, while the total methane emissions declined, the researchers noted that methane leaks remained consistently high, at about 6-8 percent.
"That's one of the highest percentages in the country," says study co-author John Lin, professor of atmospheric sciences at the U. 
These leaks don't just impact climate, notes study co-author Seth Lyman, who directs the Bingham Research Center. Other compounds co-emitted with methane contribute to air pollution, affecting the health of Uinta Basin residents. But Lyman has hope these emissions can be reduced. "This study shows that what happens on the ground is affecting what's in the air," he says. "That tells us maybe the tools to deal with this problem are already in our hands." 
The researchers hope to continue the methane monitoring study and the partnership between the U and USU. "As two of the main research universities in the state," says Lin, "there's a lot we can do together."
West Texas A&M researcher Erik Crosman also contributed to this study, along with the U's Ryan Bares, Benjamin Fasoli, and Maria Garcia. Read the study in Scientific Reports.
Community Spotlight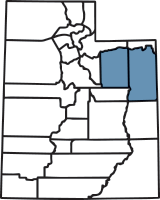 Duchesne and Uintah Counties
As the state's flagship university, the U is committed to improving the lives of all Utahns. These stories highlight how we're making an impact in every county.