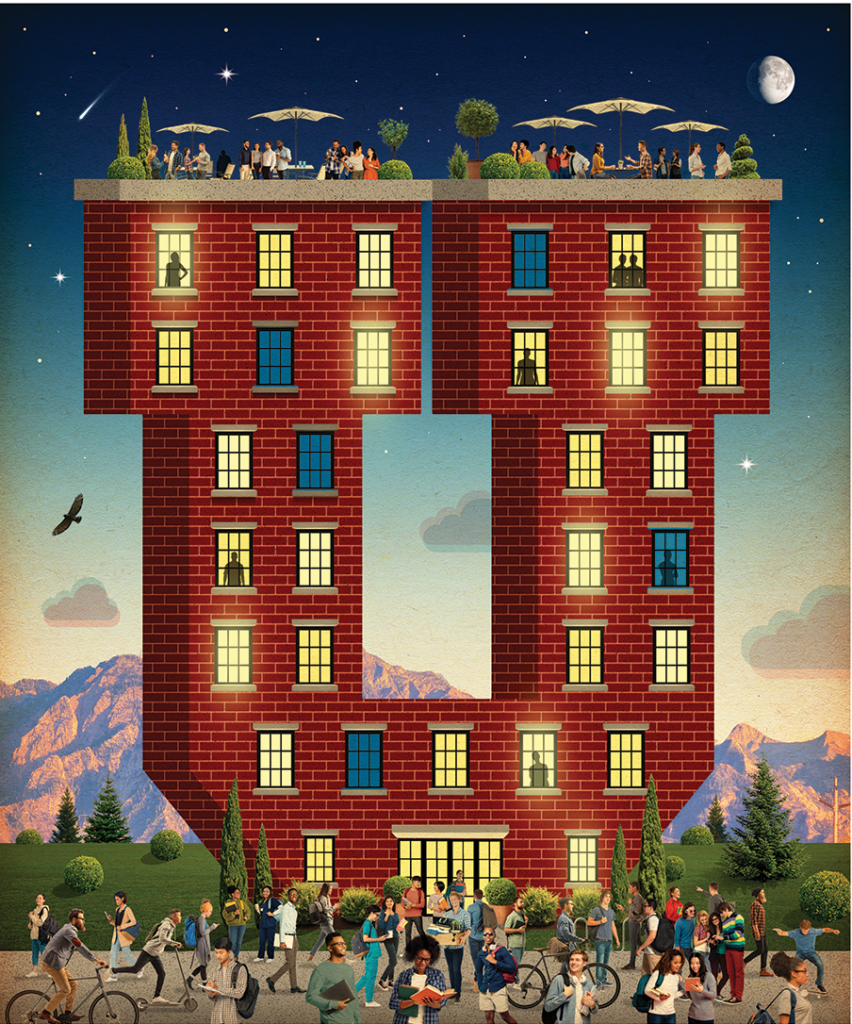 At 34,734 students, the University of Utah has a population that even some U.S. capitals can't boast. But campus has traditionally lacked the housing and services that would give it a college-town feel. That's all changing.
With a spate of new housing going up in recent years, the university has already been making over its commuter-school reputation. Now, a new vision aims to complete the transformation. Plans are in motion to add 5,000 beds and create a campus city where students can find community and have one-of-a-kind living-learning experiences. U President Taylor Randall HBA'90 calls it "college town magic," and it's part of his vision to inspire students and reimagine higher education.
"The world is becoming increasingly complex, and it's not enough to offer learning just inside the classroom," he says. "We need to think about the 24/7 college experience."
Young adults crave the close friendships you get from residing on campus, says Andrea Thomas BS'88, the U's chief experience officer, who notes that the pandemic has intensified the desire for social connection. "We know that students who live on campus have a vastly different college experience from those who do not," she adds. They become more engaged and tend to have better outcomes. Research shows students who live on campus have higher GPAs, are more likely to graduate, and are more likely to be accepted into grad school.
The U faces a perennial problem of demand outstripping supply, however, as on-campus housing has failed to match pace with steadily increasing enrollment numbers over the years. As many as 3,000 students went on the housing waitlist in fall 2022. The university came up with stopgap measures to help reduce that list, renting nearby apartment buildings and converting part of the University Guest House into student residences. But those solutions aren't sustainable. And demand will only increase with the U's target enrollment of 40,000 students by 2030. U leaders want enough residences by then for 25 percent of the student body to live on campus—which means doubling the number of beds to 10,000.
Randall sees the historic lack of housing as an opportunity. "Other campuses that built dorms years ago were building them for a different type of student," he notes. "We have the chance to be at the forefront of what the new generation needs."
Purpose-built residential communities that offer real-world learning opportunities are the wave of the housing future. The U's Lassonde Studios is a prime example. Other institutions haven't quite been able to replicate the concept, though more than 500 universities have toured the facility to glean inspiration. The living-learning community provides 24/7 spaces for entrepreneurial students from any major to test ideas, build prototypes, and launch start-ups. Residential floors encourage socializing and are designed more like neighborhoods than hotel hallways. It's a far cry from Balliff Hall, the dorm razed to make way for this new era of student housing.
"The word 'dormitory' comes from dormir, which is Latin for 'to sleep.' That's all we used to have to provide," says Sean Grube, executive director of Housing and Residential Education. "Students want a much different experience today. As we look forward, we want most, if not all, of our beds to be in living-learning communities."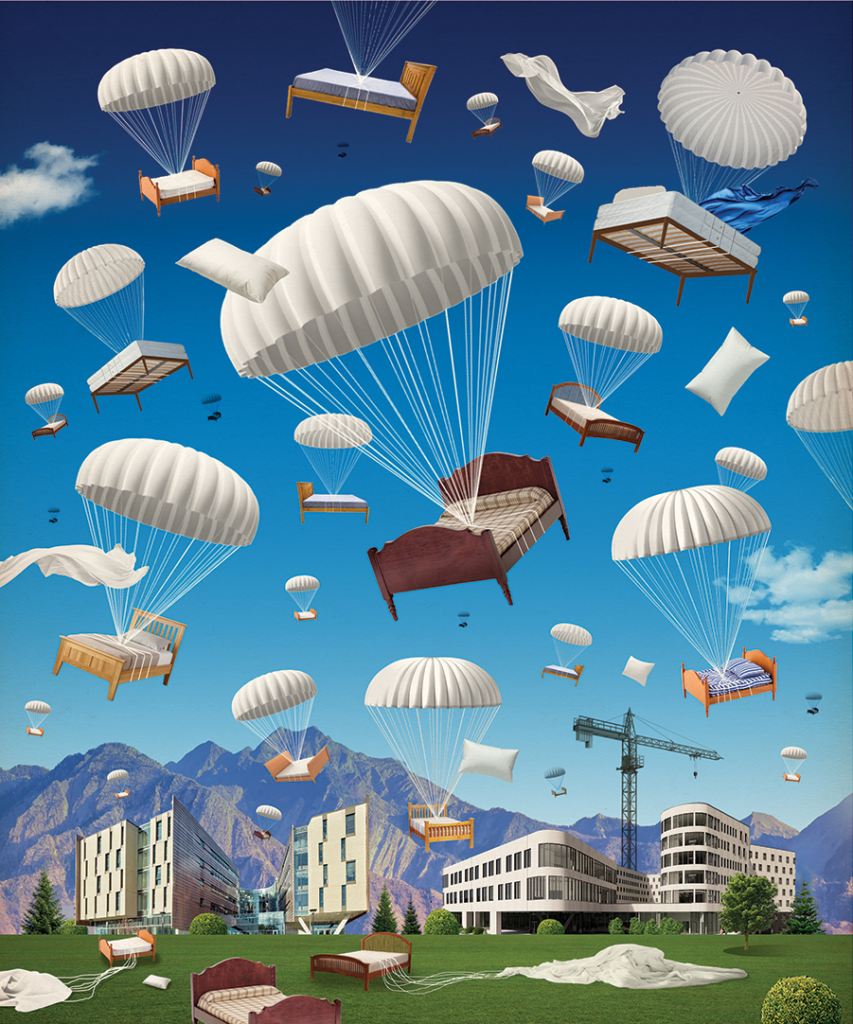 It will take more than just residence halls to become a residential campus. "It's not reasonable to say students who live here have to leave campus for everything except their academics," says Andrew King BS'07 MUP'08, director of campus planning. A proposed concept for South Campus Drive paints a picture of a bustling street with retail shops, a grocery store, and restaurants situated alongside housing.
King says more dining and recreation spaces will be added across campus as well, including in the Union Building, which may grow by 30 to 50 percent. Campus planners are working on strategies to address the parking needs of a larger population. But like many modern, eco-conscious cities, there will also be an increased emphasis on auto alternatives: more bike lanes, e-bike and e-scooter rentals on campus, and increased shuttle and public transit service.
The campus city vision comes with a hefty price tag—an estimated $1 billion. "The university doesn't have the capacity to bond for all that, so we've had to look creatively at how to finance it," says Grube. The solution: a public-private partnership, or P3. The U will work with a private company that will plan, construct, and operate student housing. Over the long-term contract, the university would continue to own the housing and the land beneath it.
Realizing the campus city vision is a major undertaking. But U leaders say it's not just a nice-to-have, it's a should and even a must.
"We're making an investment in the workforce of the future," says Randall. "We will produce students who are better trained and better capable of dealing with the biggest challenges society faces today."
Here's a look at the housing underway and plans for the future.
The Impact & Prosperity Epicenter
Though it's still under construction, the newest living-learning community on campus already has a nickname: the soul of campus. "The Impact & Prosperity Epicenter was created around this concept of bringing together students, faculty, staff, community members, and partners in the name of creating positive change in the world," says Stephen Alder BS'92 MS'96 PhD'01, executive director of the U's Center for Business, Health, and Prosperity.
Seeded by anchor donations of $10 million each from Jim Sorenson BS'75 and Bob (BA'76) and Lynette Gay (honorary doctorate, 2016), the Epicenter is a collaboration between the U's Sorenson Impact Center and Center for Business, Health, and Prosperity. The Epicenter will house 782 residents as well as offices for the two centers, which both engage students in real-world solutions to social and environmental challenges.
The Epicenter will be modeled after the U's Lassonde Studios, a residential community that focuses on entrepreneurship. Though the themes differ, the two buildings share the concept of an immersive living-learning environment that facilitates engagement and real-world problem solving.
Lassonde turns the idea of traditional student housing on its head. In fact, "we didn't set out with the idea of creating a residence building," says Troy D'Ambrosio BA'82, executive director of the Lassonde Entrepreneur Institute. "We started by asking students what would make it easier to become entrepreneurs."
Students wanted equipment, tools, and materials to build prototypes, and they needed space to operate their start-ups and store inventory. They wanted to engage with each other outside of class, and they wanted the option to create at two o'clock in the morning if they so desired.
IMPACT & PROSPERITY EPICENTER
• 6 residential floors
• 782 beds
• 300,000 square feet of student-centric space
• Full-service cafe open to the public
• Three housing options: single or double rooms, 4- and 8-bedroom apartments, and microunit communities with private sleeping quarters and community lounges
• Opening August 2024
"Some students said that's when they're most productive," says D'Ambrosio. "We thought, wow, this actually is more of a lifestyle." That's when the idea for a living-learning facility was born. The first floor, open to the entire U community, is a creative playground, with a maker studio, tool shed, wood and metal shop, and 3D printers. Several spaces are open late, like the Miller Café, or even round-the-clock. Lounge areas and residential floors encourage socializing, with central gathering spaces where residents can play video games or relax in hanging chairs.
Alder says the Epicenter will serve as a complement to the idea generator that is Lassonde. "Our goal is to curate students' start-up ideas that have the greatest opportunity to benefit society and get them out to the world," he says. Students who invent medical devices, for example, can engage with the Epicenter to take the product from the early stage to the market and into global communities.
"We've designed the Epicenter to attract, engage, and train the next generation of impact leaders," says Geoff Davis, CEO and executive director of the Sorenson Impact Center. "We're equipping students with the skills, mindset, experiences, and networks to create and implement solutions to the world's most pressing challenges."
The Epicenter's building design echoes its mission. A space called the Forum sits at the heart of the building and will host guest speakers, presentations, trainings, conferences, and community outreach events. The Forum's floor design—a central circle surrounded by radiating rings—represents the intent for the ideas exchanged here to go out into the world and make an impact. That's what today's generation wants to be part of, says Alder.
"They want to be engaged personally in making a difference now, not just when they're done with school," he says. Through the Epicenter, "we're creating a forward-facing, modern university experience that prepares students to be current and future changemakers."
Ivory University House
A collaboration between the Clark and Christine Ivory Trust, the University of Utah, and The Church of Jesus Christ of Latter-day Saints, the Ivory University House apartment community at the corner of Mario Capecchi Drive and South Campus Drive goes beyond filling an immediate need for housing. It will serve students well into the future through a unique funding model: all net proceeds will go toward scholarships, housing stipends, and internships. The complex will house undergrads and graduate students.
Kahlert Village Fourth Wing
A fourth and final wing will complete the X-shaped building design of Kahlert Village, which initially opened in 2020 with three wings and 992 beds.
The word "village" is a very intentional part of this living-learning center's name. Designed to help students work together and build social networks, Kahlert Village groups residents with shared interests into themed communities—health and wellness, outdoor leadership, and engineering, to name a few.
In addition to modern new living digs, the village draws students with amenities like indoor bike storage, meditation spaces, and music rooms. Residents can grab Mongolian barbecue or gelato at the Urban Bytes café, learn to use design software at the Adobe Creative Commons, or hang out around the firepit in the outdoor courtyard.
University West Village
The University Student Apartments on Sunnyside and Foothill Drive opened in 1973, answering the call for housing close to campus for graduate students and students with families. Now the aging buildings are frequently in need of repairs and don't meet seismic requirements. New, higher-density housing is replacing the West Village apartments, and phased demolition of the East Village units will take place over the next decade.
IVORY UNIVERSITY HOUSE
• 4 buildings
• 5.6 acres
• 552 single-occupant units
• First building opening by fall 2023 semester
KAHLERT VILLAGE FOURTH WING
• 430 beds
• Double, single, and triple rooms
• Opening fall 2023
UNIVERSITY WEST VILLAGE
• 504 apartments
• Opening July 2023
The Next Phase of Housing
What could it look like to add 5,000 beds and improve the on-campus living experience? U leaders recently undertook a housing vision study to consider just that.
"What we identified was that current housing is disconnected," says King, the director of campus planning. "So we said, how do we connect these buildings to create a student residential environment that's more cohesive and intentional?"
The concept that emerged was a residential "spine" from housing in Fort Douglas and down along South Campus Drive. Planners identified several possible locations for residential buildings along this stretch, including south of Kahlert Village and west of the Huntsman Center. Fort Douglas expansion is likely, thanks to plans to relocate the Stephen A. Douglas Armed Forces Reserve Center to Camp Williams in Bluffdale. The U received $100 million in March 2023 to facilitate the move.
The residential spine could include retail shops, restaurants, and a grocery store. The end result will be a "24-hour campus where people can shop, eat, recreate, and meet up with friends," says King. He expects plans for the next phase of housing to be announced by mid-2024.
Future Opportunity: Research Park
Established in 1968 on the University of Utah campus, Research Park is an innovation hub with about 50 companies and more than 80 university departments. As buildings age and leases expire, say U leaders, there's an opportunity for a new vision. A capacity study showed possibilities for what Research Park could look like several decades from now: a mixed-use, amenity-rich, walkable district that may include housing for students and employees, retail, dining, businesses, intentional green spaces, walking and biking paths connecting to hiking and nature trails, and transportation hubs.
U leaders emphasize that "vision" is the key term here—nothing is concrete. Leaders are taking a careful look at all factors and working closely with those who have a stake in the master plan.
"We're gathering input from all constituents, including our surrounding neighbors," says Randall. "We intend to create a college town that will serve our students and community long into the future."
About the author: Lisa Anderson is associate editor of Utah Magazine.