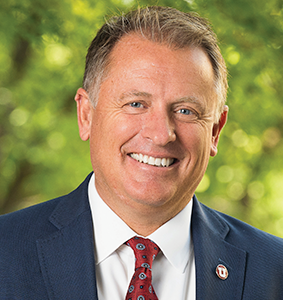 Since I was selected as president of the University of Utah nearly a year ago, I've been asking myself, how can I build upon our powerful call to "Imagine U"? In other words, how can I "Re-Imagine U"? I picture a future so inspiring, innovative, and impactful that it unifies people behind a common, aspirational ideal—such as our vision to become a top 10 public university with unsurpassed societal impact. To achieve this, we must all use our imagination to inspire, innovate, and impact.
I want to re-imagine how we inspire our students by revolutionizing their experience. Let's capitalize on what differentiates the U from other schools in the state—our research. Beginning their first year, I want students to work in labs, address societal problems, study abroad, and more. I expect prospective students to feel so much FOMO (fear of missing out) that they stand in line to come here. If we succeed, I'm confident we'll grow our student body to 40,000 in 10 years.
Second, I want to re-imagine how we innovate. We need to do more research and get it to market faster. I want the U to secure $1 billion of research funding annually. To do this, we plan to forge new partnerships, create innovation districts, and accelerate commercialization efforts.
Third, I want the U's impact to be felt deeper in the community we serve by making a difference in the lives of all 3.3 million Utahns. One example of this is the new U health care facility and academic campus underway in West Valley City that will include a hospital and clinics, classrooms, childcare facilities, and more. 
The pages of this issue of Utah Magazine are filled with even more examples of how we are re-imagining the U by inspiring a new generation of students, finding newer and faster ways to innovate, and improving the lives of all Utahns.