You'd think Andy Jones BS'07 would develop a complex. Brie Larson brutally kicked him in the stomach, killing him, and Hugh Jackman stomped him into the ground. Kristina Baskett BS'09 doesn't seem to be faring much better—she's fallen off roofs, tumbled down numerous stairways, and been hurled through windows.
Such is the life of a Hollywood stunt performer, where getting punched, kicked, and tossed off a cliff is part of the job."I did a lot of fight work in the film Logan with Hugh Jackman. I was one of the guys flying from the trees, but unfortunately my scene didn't make it into the film," says Jones, a former member of the University of Utah's diving team. You can see him—kind of—in Captain Marvel, starring Brie Larsen."I actually got killed a couple times during fight scenes in that movie," he says. "Brie was awesome and super laid-back, but she has no idea what I look like—the only times I talked with her, I was wearing prosthetics to make me look like an alien."
Look for Jones in the upcoming Avatar 2—though you still probably won't recognize him behind the motion-capture special effects.
Baskett, a former member of Utah's gymnastics team, tumbled off a roof onto a trampoline in Mike and Dave Need Wedding Dates—that's her in the yellow dress—and jumped, cartwheeled, and somersaulted through a restaurant for a TV commercial. And she tumbled through the wilderness as Reese Witherspoon's double in Wild. But her most recognized role to date was as Maisie Williams' (Arya Stark's) stunt double during the last three seasons of Game of Thrones.
"Game of Thrones was my most physical job," Baskett says. "There were lots of heavy fighting scenes, and lots of sword fights on stairways, and falling." She also helped Williams perform some of her own stunt work.
Look for her next on the new television show Stargirl. Baskett couldn't reveal much about the series but called the stunts challenging: "The most difficult thing about doing superhero stuff is making things that aren't humanly possible look possible."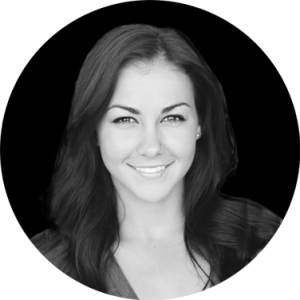 KRISTINA BASKETT BS'09
Yes, that's a real cityscape: Los Angeles, to be exact. And no, it's not a movie set. Gymnast-turned-stunt double Baskett says this photo on a rooftop is one of her favorite "headshots." And although she makes it look easy, Baskett assures, "Yes, it does hurt landing on concrete."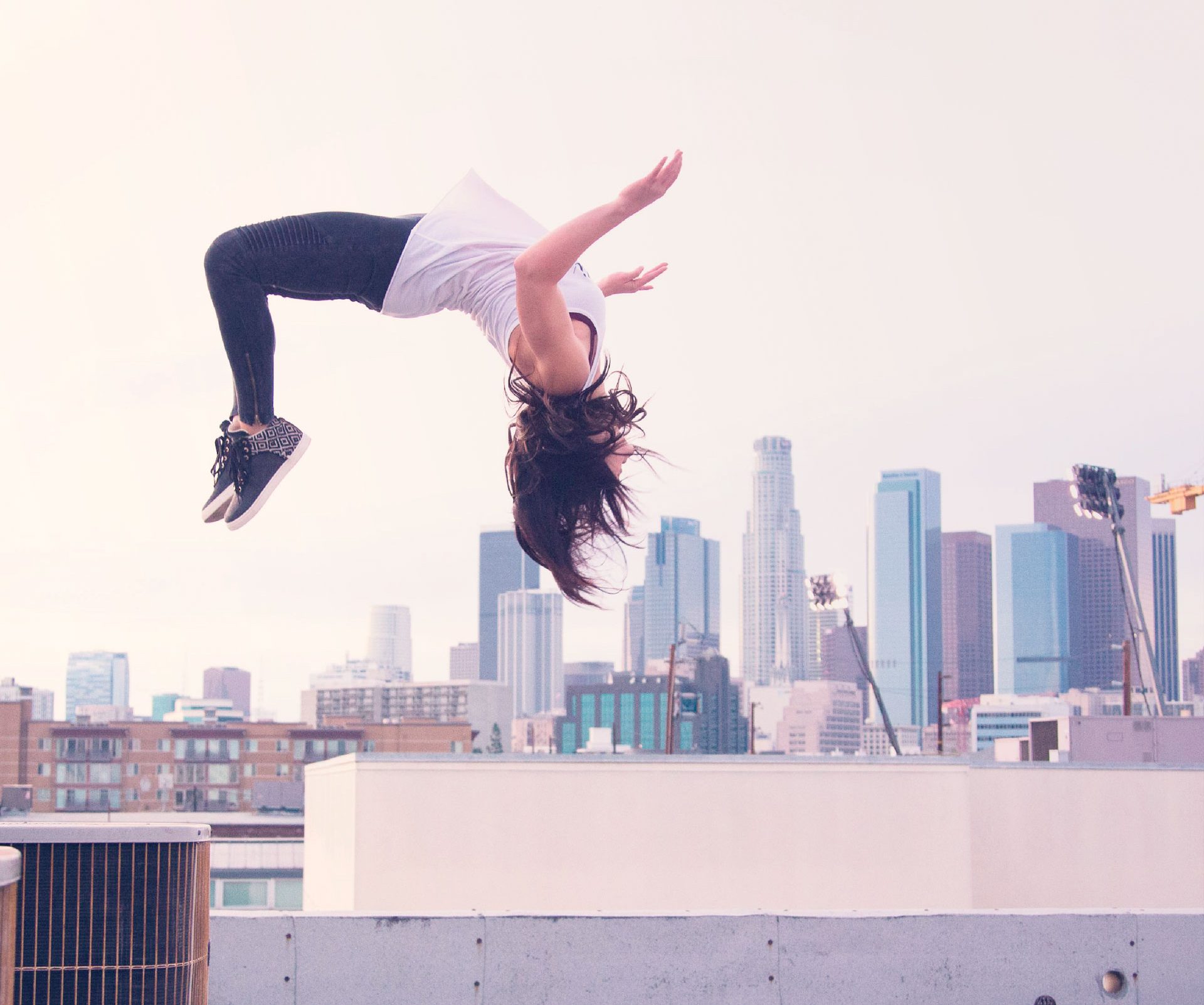 Growing up, Baskett's parents encouraged her to play all sports, but "gymnastics came pretty naturally to me," she remembers. "I just knew that I loved it."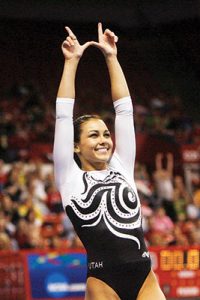 As a teenager, she competed in Olympic trials but didn't make the final team. She won a gymnastics scholarship to the U, where she helped lead the Red Rocks to three consecutive second-place national finishes. Among her many athletic accomplishments, she won the uneven bar title at the 2006 NCAA Championships and took second on vault in 2008 and in the all-around in 2009. "Interestingly, uneven bars was the event I struggled the most with, so winning that award was special for me," she says.
In total, Baskett was a 12-time All-American and a five-time NCAA regional champion, winning 88 event titles in her college career, which ranks fourth all-time at Utah. She also received the Dahl Award for her outstanding academics.
"I can't say enough good things about my time at Utah," she says. "My coaches Greg and Megan Marsden gave me confidence and motivated me, and my classes prepared me for the host of amazing opportunities that later came my way. I thought about going into broadcast journalism after college but chose to work at Cirque du Soleil."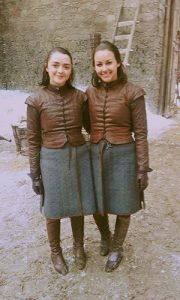 Performing as an acrobat in Cirque's Viva Elvis in Las Vegas led to stunt work in 2009 on the television show Make It or Break It, about a teenage gymnast competing for a spot on the Olympic team. Over the next decade, she worked steadily on projects including Sharknado—where "I don't think my character got eaten," she jokes—and doubling for singer Hayley Williams in Taylor Swift's "Bad Blood" video. "It was fun, and I liked the whole concept about strong, empowered women," says Baskett.
She credits her stunt success to networking and to being a slim 5-foot-2, a not uncommon size for actresses. "The first thing casting directors want to know is how tall you are," she says. After all, you have to look like the actor you're doubling for. "Wigs, costumes, and makeup can be changed, but you can't change your height."
Recently, Baskett has been back on the mat as an assistant gymnastics coach for Arizona State. And this May, she takes on yet another new role: that of mother. As for stunt work, she definitely plans to go back. "Maybe not like before," she says, "but however it will work into my new family life."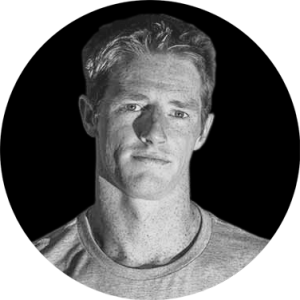 ANDY JONES BS'07
The oil rig is on fire, and the bad guys are closing in. Only one option left: jump. From some 100 feet in the air, Jones leapt into the open ocean north of Ventura, California, while filming stunts for the CBS series SEAL Team. "The director needed a second take, so I strapped my pads back on and went back up for another."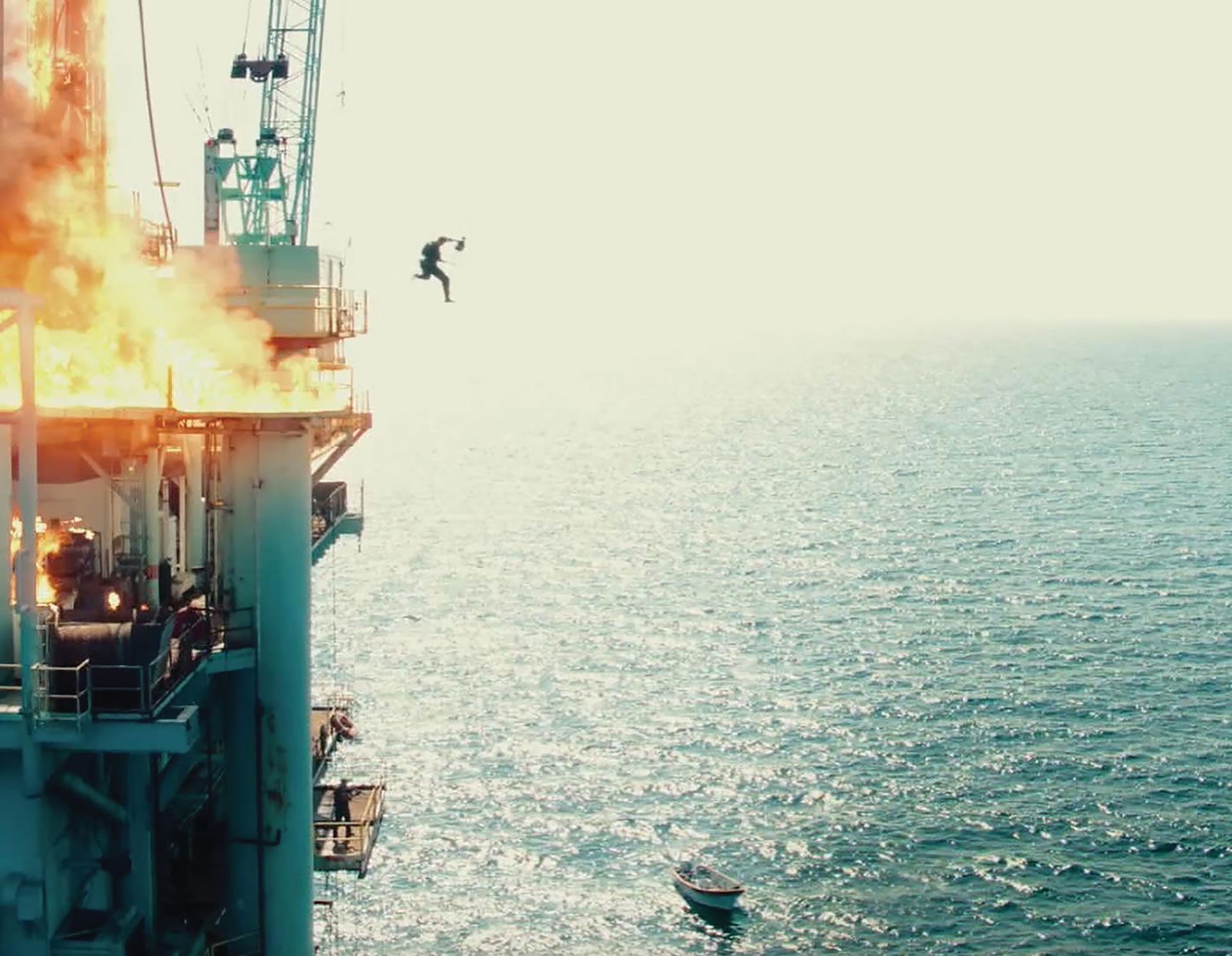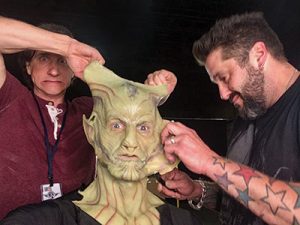 Like Baskett, Andy Jones was a kid who enjoyed sports, especially swimming and trampoline. He also loved Jackie Chan movies. "When I read that he did all his own stunts, I thought that was so cool," Jones remembers. "I thought, 'Wow, it would be so much fun to do that in the movies.' "
Disappointed he didn't make his high school's baseball team, he went to the school's pool to hone his swimming skills and later walked on to the U's diving team. He credits former Utah diving coach Rachel Degener with helping him win a diving scholarship for his junior and senior years.
"What I love most about diving is the freedom I feel when launching myself into the air," Jones says, adding that he later taught himself how to add acrobatic moves to his launch and descent. "It's pure enjoyment. My whole body tingles while the air rushes by me as I'm falling."
Jones was named Diver of the Year as a senior and began performing high dives in exhibitions in Saudi Arabia and elsewhere, then joined Cirque du Soleil, doing up to 15 high dives a week. In 2011, he competed in the Red Bull Cliff Diving competitions, and seven years later, he was ranked fifth-best in the world. His most memorable competition plunge: 92 feet into 50-degree F water. "Those high dives still make me nervous," he admits, "but once I get on the platform and prepare to dive, I trust in my abilities and focus on hitting the water."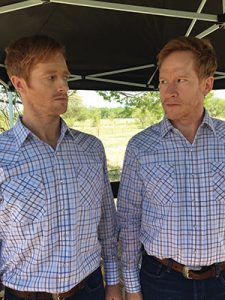 Friends doing stunts in films helped him land a few gigs, where he impressed stunt coordinators with his diving know-how. His scariest film stunt: In Code Black, falling out of a helicopter 17 feet in the air and landing on a nine-inch pad buried so it looked like he was landing on just hard sand. "A lot of times, you walk onto a set and don't know what you'll be doing," Jones says. "You've always got to be prepared for anything."
Not all of Jones' work is dangerous, he adds. "I did a Super Bowl commercial for Michelob where I'm swimming laps and singing along with a song in the ad, while Chris Pratt was trying to do a cannonball into the pool. He was having trouble making the jump, and I thought it was funny—the best person on the shoot to teach him the dive would be me, but nobody asked for my help."
About the author: Benjamin Gleisser is a Toronto-based freelancer.
QUICK QUIPS FROM
THE STUNT-WORKERS
ACTION STARS WHO KICK BUTT?
Kristina Baskett: Maisie Williams as Arya Stark (Game of Thrones). She's an awesome character.
Andy Jones: Hugh Jackman, Brie Larson, and Dwayne Johnson are some of the first that come to mind. And Ryan Reynolds, who regularly gives a shout-out to stuntmen and women on his Instagram.
---
TITLE OF YOUR BIOGRAPHY?
KB: Happy. The biggest thing in my life is that I want to be happy.
---
WHICH SUPERHERO IS MOST LIKE YOU?
AJ: I have Deadpool's dry sense of humor and Spiderman's agility.
---
A BOOK THAT CHANGED YOUR LIFE?
KB: Feel the Fear and Do it Anyway was a big help in my life. Live life the way I want to live, do what makes me happy. I go back to it again and again.
AJ: A biography of Hal Needham's life called Stuntman. It didn't get me to switch careers, but it definitely helped make up my mind as to what I wanted to do with my life.
---
MOST EXCITING MOVIE OR SERIES YOU'VE EVER SEEN?
KB: Game of Thrones. I'm a big book reader, and I love fantasy and action. The show's creators did a great job of creating that world.
AJ: The Dark Knight. The opening scene is amazing, and I remember sitting through the rest of the movie in awe. Hopefully, someday it will be Avatar 2!