Every year on or around February 28, the U celebrates Founders Day and awards some of its most prestigious alumni honors. This year marks 170 years since the U got its humble start as the first state university west of the Missouri, so we thought our readers might appreciate a brief refresher of our history before we share the video tributes to this year's Founders Day awardees.
The story begins in 1850. The pioneers wanted to establish a university, so the General Assembly of the State of Deseret, led by LDS Church leader Orson Spencer, chartered the University of Deseret. Times were tough, but the community was determined to succeed. The funding was limited, so the first classes were held in private homes and other make-do spaces, and funds for teacher salaries and supplies came from private donations to the school. The roster the opening semester was 25 students, and tuition was $8 for the quarter.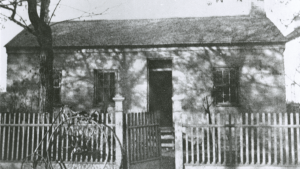 The limited funds didn't last long, however, and in 1853, the university was forced to close. Courses were held intermittently for more than a decade, until state leaders could put greater resources into the school thanks to a growing economy. In 1869, John R. Park, a well-known educator in Utah, was hired as the university's first president. Under Park's leadership, the school built a solid foundation in the community.
In 1884, the university moved into its very own building (pictured above) for the first time, located where West High now stands. After the move, student life began to develop on campus with the formation of literary and debating societies and the establishment of the annual University Ball. Two years later, the university granted its first degrees and formed the Alumni Association.
In 1892, the school was renamed the University of Utah. The Territorial Legislature petitioned Congress to get acreage for a new campus, which was granted in 1894, landing the university on the east bench—its permanent home.
To celebrate this year's Founders Day, the university honored an exceptional group of individuals at a gala in February. Scroll down to watch their inspiring videos and read more about them here.
Distinguished Alumni:
Jeff Battcher ex'84, CEO and founder of Battcher Communications
Katharine Garff BS'64, director of the Robert H. & Katharine B. Garff Foundation
Kathy Loveless BA'71, international speaker, author, CEO, and founder of Loveless Enterprises, Inc.
Eric Weddle ex'06, retired NFL free safety with the Los Angeles Rams
Honorary Alum:
Al Landon, U assistant dean of business and former chairman and CEO of Bank of Hawaii
Distinguished Service awardees:
Ted Capener BS'53, a longtime broadcaster and former U vice president
Megan BS'84 and Greg Marsden ex'78, beloved former Utah gymnastics coaches