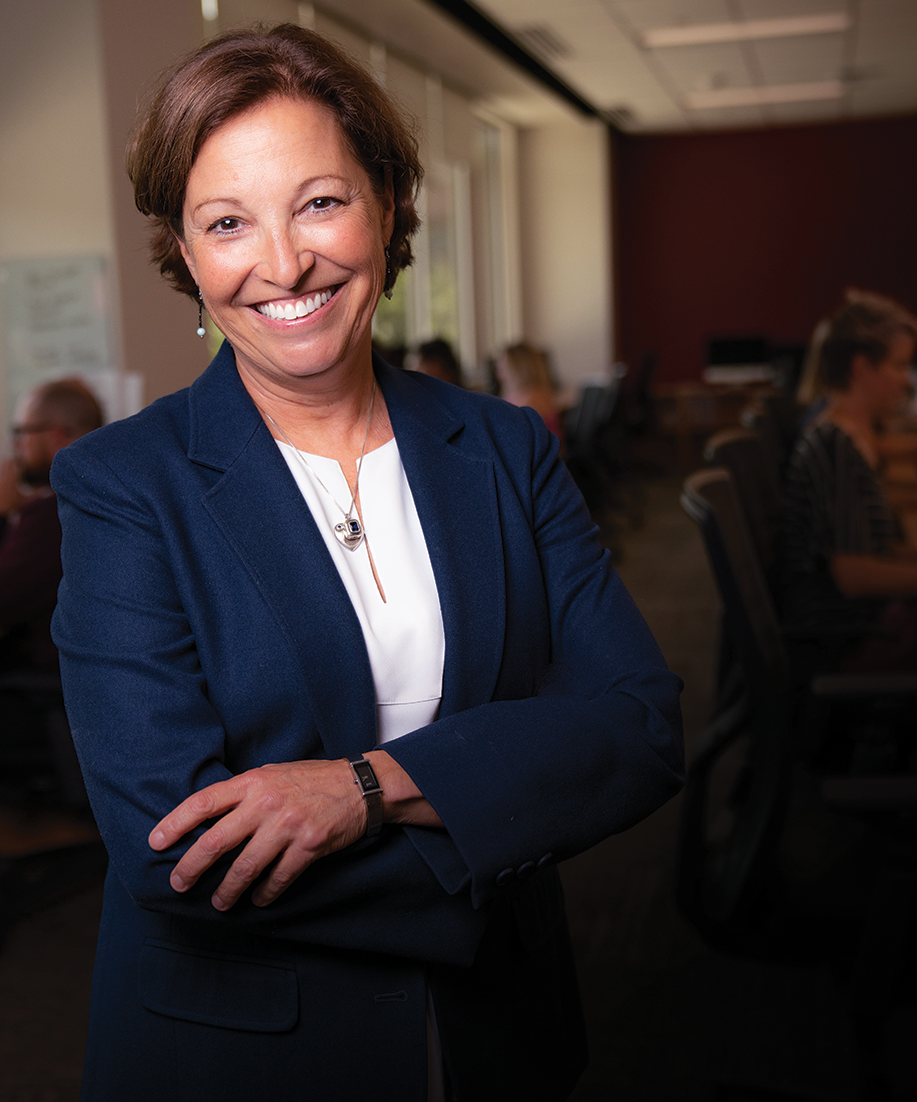 Most parents of soon-to-be college students share a top concern for their kids: Will they have a job when they graduate? New U Career Services Center director Katie Hoffman-Abby BS'84 and her team of nearly 60 full-time professionals are here to arm students with the resources and support they need to help them land that well-paying job—a process that starts long before they earn their degree. 
With over two decades of private-sector job placement experience, Hoffman-Abby spearheaded the center's expansion following a successful pilot project aimed at boosting post-graduation employment rates and starting salaries for select colleges and departments. As the university-wide implementation of these approaches begins and the center expands in the Robert H. and Katharine B. Garff Building, we caught up with Hoffman-Abby.
What advice do you give to folks just starting their education?

 
Come visit us. Come early and come often. The earlier you start planning, the better. Even if you don't know exactly what you want to do after you finish school, you can start looking into internships, meeting with career coaches, and getting a head start. 
What relationship do you have with employers?
We recognize that building and maintaining outstanding relationships with all kinds of employers—from startups to Fortune 500 companies and everything in between—will help our students and the community. Rather than let organizations simply approach us for an occasional job placement, we're proactively reaching out. Our corporate outreach team develops industry-specific expertise to build those relationships. Increasingly, internship pipelines are key to finding and hiring excellent full-time candidates, and our corporate team can help develop internship programs for companies. We want the U to be top of mind when those companies are ready to fill positions. 
What other advice would you give to any student concerned about finding a job? 
Start exploring right away. If you didn't get an early jump, start wherever you are. Do at least one internship. Introduce yourself to employers and alumni visiting campus—they want to meet you. Attend panels, workshops, and career events whenever you can. Join clubs and organizations—the students you connect with there can form the basis of a valuable professional network. We boost student success by coaching on self-branding, job search strategies, effective interviews, negotiating offers, and so much more. Get a LinkedIn headshot and borrow interview clothing from our Career Closet—or keep it if you're in need. Our team is truly remarkable at what they do and can help every student who walks through our doors, so come see us.