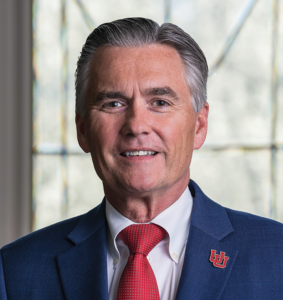 The University of Utah campus has come alive again this fall with the return of students, faculty, and staff. And we have the COVID-19 vaccines to thank for making the in-person experience possible.
Campus is not only abuzz with activity, but also with the excitement of welcoming new University of Utah President Taylor Randall, a proud U alum! The announcement of his appointment was made just hours before Utah Magazine went to press last month. So, by the time this hits your mailbox, the university will be in the capable hands of President Randall, who comes to this role after serving as accomplished dean of the David Eccles School of Business for 12 years. His list of achievements runs long, and his love for the U runs deep.
President Randall is fortunate to take the helm of a university that is thriving. There is so much good news to share. Among recent highlights: A gift of $110 million from the George S. and Dolores Doré Eccles and the Nora Eccles Treadwell foundations will transform our School of Medicine. This historic gift will allow us to support advanced models of medical education, attract more world-class faculty, and engage in further critical research, and will help provide a home for the newly named Spencer Fox Eccles School of Medicine.
Work is now underway on the Juniper Canyon Campus in Herriman, a partnership between Salt Lake Community College and the U that will allow students in this fast-growing area to pursue their educations closer to home and transition seamlessly to the U to complete their degrees without changing locations. We are also very excited about the recently completed Ken Garff Red Zone on the south end of the Rice-Eccles Stadium.
This university has never been stronger. I thank the U community—especially you, our outstanding alumni and friends—for your unwavering support. A most promising future awaits the University of Utah.
MICHAEL L. GOOD
SENIOR VICE PRESIDENT FOR HEALTH SCIENCES
INTERIM U PRESIDENT (APRIL-AUGUST 2021)