Silent were the cheers filling the Huntsman Center, and instead of family and friends watching the proceedings on the jumbotron, they tuned in on much smaller screens at home. The U held its first virtual commencement last spring due to COVID-19 restrictions. Thousands tuned in online, as well as locally on KUTV, to watch the event.
"The biggest challenge was capturing the pomp and circumstance and really giving the graduates the ceremony they deserved. And we only had a few weeks to figure it out," says Jeff Hanson, executive producer at the U. "We couldn't have done it without PBS Utah and the fantastic people who work there. They stepped up to make it happen."
In some ways the commencement felt familiar. It opened with the national anthem and featured messages from President Ruth Watkins and keynote speaker John Warnock BS'61 MS'64 PhD'69, co-founder of Adobe Inc., as well as from college deans. More than 20 people were recorded for the event—all while maintaining appropriate social distancing and cleaning measures. But it was still not the ceremony students anticipated.
U student Miranda Stewart, who graduated with majors in sociology and international studies, also spoke, and noted that her graduating class was dealt some challenging hands. "We have faced every tragedy and trial with grace and resiliency. No, it is not fair, but none of us is facing it alone. Being in the same boat means we all weather this storm together, and I have no doubt we will make it through," she said.
A Simulated Convocation
---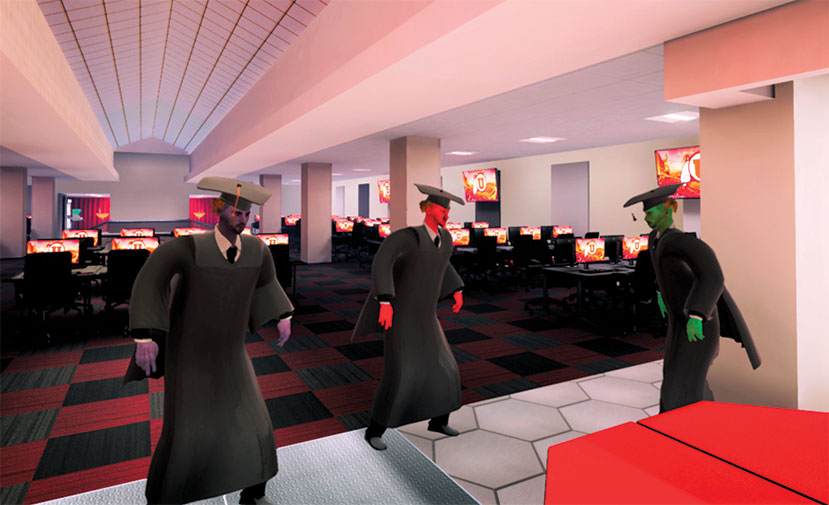 The latest game created by the U's Entertainment Arts and Engineering program didn't require players to defeat their opponent or solve any puzzles. Instead, it was the simulated environment for more than 200 EAE students to hold their own virtual convocation. The graduates logged in with their customized avatars, listened to speakers, and received their graduation cords. "We wanted the students to leave on a high note," says professor Robert Kessler BS'74 MS'77 PhD'81. "And we're games people, so we said, 'Let's make a game.' "
By The Numbers